Sudan Troika recognises progress on referendum preparations and calls for further efforts
The Sudan Troika (Norway, the United Kingdom and the United States) have issued the following statement calling for further efforts from Comprehensive Peace Agreement parties.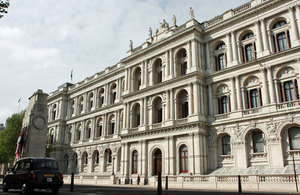 Statement by US Secretary of State Hillary Clinton, UK Foreign Secretary William Hague and Norwegian Foreign Minister Jonas Gahr Store:
In a September 17 letter to Sudanese First Vice President Salva Kiir and Second Vice President Ali Osman Taha, the United States, Norway, and the United Kingdom, as members of the Sudan Troika, commended recent progress on preparations for Southern Sudan's referendum, and called on the Comprehensive Peace Agreement (CPA) parties to take swift action to ensure that peaceful referenda take place on time, in a manner consistent with the will of the people of Southern Sudan and Abyei.
There remains an enormous amount to be done and work must be accelerated to make up for lost time. We have highlighted to the parties that it is their responsibility to ensure that the Commission moves quickly to take critical decisions on further preparations, including most immediately: finalizing an operational plan and budget; agreeing on voter registration criteria and procedures; and hiring and training of registration workers, among other things.
We look forward to joining the CPA parties and international partners in New York this week at the UN General Assembly for continued dialogue on these critical issues and to demonstrate our sustained support to the process.
Published 21 September 2010