Sudan: Darfur still suffering ten years after conflict began
Almost a third of the population of Darfur are still relying on food aid for survival ten years on from the beginning of the region's conflict, International Development Minister, Lynne Featherstone, has said during a visit to Sudan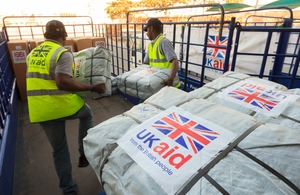 Lynne Featherstone said:
"A decade since the beginning of the Darfur conflict the region's people are still suffering. Millions have been forced from their homes and 2.7 million people still rely on food aid for survival.
"The signing of the 2011 Doha Peace Agreement was a cause for optimism. However, the people of Darfur have yet to see tangible improvements to their lives and continue to need our support.
"The UK is playing its part, providing healthcare and food to millions of people in need as well as training the policemen and judges that bring stability to fragile communities.
"The donor conference due to take place later this year offers an opportunity to ensure Darfur does not slip down the international agenda. Darfuris need the Sudanese Government to demonstrate its continued commitment to peace and development in the region in order for the international community to continue its support."
The Minister made the comments after a camp for Internally Displaced People (IDPs), in Darfur. Nearly two million people live in camps such as these after being forced from their homes in the ten years since the conflict began.
By 2015 the UK's programme in Sudan is expected to help:
800,000 people with access to clean drinking water sources
250,000 women and girls with improved access to security and justice services
800,000 people with choice and control over their own development and the means to hold decision makers to account through governance and justice programmes.
Each year until 2015 the UK's programme in Sudan will help:
3 million people with access to healthcare and nutrition related programmes;
1.5 million people with food security and livelihoods assistance;
The visit, the third by a DFID Minister in the last 18 months, demonstrates the UK's continued commitment to Darfur, and Sudan more broadly. Lynne Featherstone took the opportunity to press the Government of Sudan to implement the agreements it has reached with South Sudan, and display the statesmanship it showed in securing this peace agreement when tackling its internal conflicts and the deteriorating human rights situation within the country.
Published 24 January 2013