Successful start to rotavirus vaccination programme
The rotavirus vaccine, introduced in July 2013, is having a significant impact on the number of cases according to new interim figures.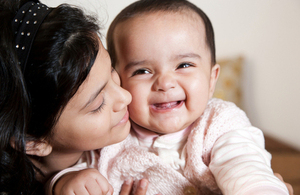 Preliminary data published today (28 March 2014) show an excellent start to the uptake of the rotavirus vaccination programme introduced last year by Public Health England, the Department of Health and NHS England.
Covering the period from July 2013 to March 2014, 93% of children in the survey had received the first dose and 88% had completed the 2 dose course.
In addition, laboratory reports of rotavirus showed 70% fewer cases during the same period when compared to the average over the last 10 seasons. The high coverage reported to date suggests that a rapid reduction in the burden of rotavirus is achievable.
Dr Mary Ramsay, PHE's head of Immunisation, said:
Rotavirus is the most common cause of vomiting and diarrhoea (gastroenteritis) in infants and young children. Prior to the vaccination programme, nearly every child will have had at least 1 episode of rotavirus gastroenteritis by 5 years of age.

In children younger than 5 years in the UK, this infection has been responsible for around 140,000 GP visits and 14,000 hospitalisations every year and the immunisation programme is expected to prevent a significant number of young infants from developing this infection.

We are hugely encouraged by the widespread response to this vaccination which has already showed a very significant impact on cases of rotavirus in the UK. We will continue to work closely with our NHS and Department of Health colleagues to ensure the uptake for this vaccine remains high and the cases of rotavirus infection continue to decrease.
The rotavirus vaccination programme began on 1 July 2013 when children under 4 months were routinely vaccinated against this highly infectious illness. The vaccine is administered as a droplet into babies' mouths during their 2- and 3-month vaccination appointments.
People of any age can be affected but the illness is more severe in babies. Symptoms include vomiting, diarrhoea, stomach cramps and mild fever, which usually last for 3 to 8 days. Some children, however, may develop severe gastroenteritis and become dehydrated, and require hospitalisation for rehydration.
PHE press office: National Infection Service
PHE press office, infectious diseases
61 Colindale Avenue
London
NW9 5EQ
Published 28 March 2014