Press release
Successful government cancer campaign to go national
The government's first ever cancer campaign to increase awareness of bowel cancer is to be rolled out nationally.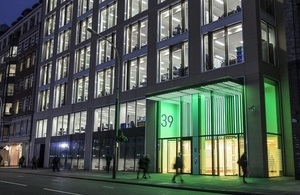 The government's first ever cancer campaign to increase awareness of bowel cancer is to be rolled out nationally as part of a £8.5 million package following a successful trial, Health Minister Paul Burstow announced today.
The 'Be Clear on Cancer' bowel cancer awareness will launch nationally in January. The ads will feature real GPs encouraging patients to talk to them about changes in their poo. They aim to make people aware of the early signs of bowel cancer and make it easier for them to discuss this with their GP.
Results from the regional pilots in the South West and East of England, found:
• There was a 48 per cent increase in the number of people who visited their GPs with symptoms.
• There was a 32 per cent increase in urgent referrals to hospitals over six months - which included the period the campaign ran.
• Campaign recognition was high with 75% of the public in South West and East of England saying they had seen the advertising
• There was overwhelming support for the campaign - 96 per cent of the public and 89 per cent of GPs believed it was important.
Building on the success of the bowel cancer campaign, the Department of Health is now also launching a new regional campaign to highlight the signs and symptoms of lung cancer across the East and West Midlands.  From October, local TV and radio ads will show that people with a persistent cough for more than three weeks should visit their GP.
Lung Cancer is the UK's biggest cancer killer claiming over 28,000 lives a year. One thousand three hundred lives could be saved each year if England matched the best survival cancer rates in Europe.
Paul Burstow said:
"No one likes thinking about cancer, or talking about their poo. But the plain fact is no one dies of embarrassment, they can die of cancer if they don't get an early diagnosis. Tell your GP. It could save your life.
"Early diagnosis makes a huge difference to your chance of survival. Results from our regional bowel cancer campaign shows campaigns really work to raise awareness and get people to their GPs.
"We are concentrating on what is most important to patients and their families - improving cancer outcomes. We're investing £750million over the next four year to deliver our ambition of saving at least 5000 additional lives. Alongside the Cancer Drugs Fund, these campaigns will improve health outcomes for cancer all cancer patients."
Harpal Kumar, Chief Executive, Cancer Research UK, said:
"We very much welcome the extra money to raise awareness of the early signs and symptoms of bowel, lung and a range of other cancers.  The key reason our cancer survival lags behind the best in the world is that we diagnose the disease late.
"Cancer Research UK and the Department of Health have set up the National Awareness and Early Diagnosis Initiative (NAEDI) to work towards ensuring that cancer is diagnosed as early as possible when treatment is more likely to be successful. Campaigns to raise awareness are a vital part of this approach."
Deborah Alsina, CEO, Bowel Cancer UK and Mark Flannagan, Chief Executive of Beating Bowel Cancer said,
"We are fully committed to working with the government to raise awareness of the symptoms of bowel cancer. We know 90% of people will survive if diagnosed at the earliest stage of the disease. The tragedy however is that only 9% are. We work with people every day who tell us they are living proof that bowel cancer is curable.
"Worryingly awareness of symptoms and the disease is still way too low.  We hope this campaign will help change that and encourage people to take the important first step of going to their doctor if they have concerns."
This year, the Government is also funding 18 projects across the country to trial symptom awareness campaigns focussing on oesophagogastric cancer, the symptom blood in urine (an indicator particularly for kidney and bladder cancers) and targeting women over the age of 70 who may have breast cancer.
The Government is also providing cutting-edge cancer therapies, through its commitment to invest £200 million per year for a Cancer Drugs Fund until the end of 2013.
Notes to editors:
1. For further information please contact the Department of Health press office on 020 7210 5221.
2. Bowel Cancer Symptoms may vary, but we know those which might be bowel cancer include:
• A persistent change in normal bowel habit, such as going to the toilet more often and diarrhoea, especially if you are also bleeding from your back passage
• Bleeding from the back passage without any reason, particularly over the age of 50
• A lump in your tummy or a lump in your back passage felt by your doctor
• Unexplained iron deficiency in men or in women after the menopause
• Unexplained extreme tiredness
3. Advertising for the national pilot campaign has been developed by M&C Saatchi.  The pilot bowel campaigns cost £1.75m.
4. The campaign programme is part of a broader range of work to improve cancer services and outcomes.  For example, in relation to bowel cancer survival rates, the actions include: extending the screening age to 75, introduction of flexible sigmoidoscopy screening at 55, promoting laparoscopic colorectal surgery, a training programme for lower rectal surgery and an enhanced recovery programme.
Published 16 September 2011