Stunell and Neville kick off revolution in tackling carbon emissions
Communities Minister Andrew Stunell today joined ex-footballer and sustainability campaigner Gary Neville in Sheffield to open a revolutionary…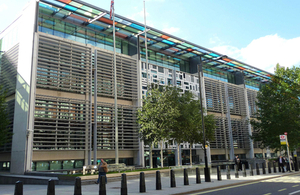 Communities Minister Andrew Stunell today joined ex-footballer and sustainability campaigner Gary Neville in Sheffield to open a revolutionary 'carbon negative' office - a building that produces more energy than it consumes.
The minister joined Mr Neville, a keen environmentalist and the founder of Sustainability in Sport (external link), to open the open the Old Corn Mill, near Penistone, in West Yorkshire.
A combination of solar panels, two wind turbines and a water turbine powered by the River Don means that the new offices generate surplus energy that is put back into the national grid system, effectively removing carbon dioxide from the atmosphere, and giving the building an energy performance rating of A+. The average building in England is rated D.
Energy efficient features at the Old Corn Mill include triple glazing; substantial insulation; low-energy appliances; eco lighting, and underfloor heating using a geothermal water source beneath the car park.
Originally a 1750's three-story mill, the building has been carefully renovated using existing materials and the latest insulation and energy efficient materials to create a three storey office. The original structure is traditional 1750's cut stone but a new build extension has been added highlighting the blend of old and new.
Communities Minister Andrew Stunell said:
The built environment contributes almost half of the UK's carbon emissions each year and if UK is to play its part tackling climate change, we need to make our buildings more sustainable.

This new carbon-negative building is a prime example of how the offices on the future can work - generating not only enough energy to power themselves, but also others - as well as being practical and affordable.
Sustainability champion Gary Neville said:
It's great to see offices like this being built. It just shows that businesses as well as individuals can do their bit for the environment.
Published 13 October 2011