Studland to Portland reef to get special protection
Over 330 square km of marine habitat off the coast of Dorset will be given greater protection, Natural Environment Minister Richard Benyon announced today.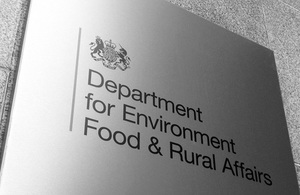 The site located at Studland to Portland is over half the size of the New Forest National Park, and has been submitted by the Government to the European Commission to become a Special Area of Conservation (SAC).
When designated it will complete England's network of coastal SACs and will mean its reefs will be protected from damaging human activities and its rare features conserved.
Natural Environment Minister, Richard Benyon, said:
"Our seas are home to some of the most diverse species and habitats in the world and they need just as much protection as our land.
"Studland to Portland's reefs are no exception, they support a wide range of rare species that deserve special protection.
"This is a major step towards fulfilling our promise to create a network of marine protected areaswhere marine life can thrive."
The Studland to Portland site, which is situated along the coast from where the Olympic sailing events recently took place, exhibits huge geological variety, and its reefs are home to many different marine species, including pink sea fans, cup corals and reef-building mussels.
England currently has 36 Special Areas of Conservation with marine components that stretch from the Isles of Scilly in the southwest to the Berwickshire and North Northumberland Coast in the north east. The Studland to Portland SAC will be the 37th, and it will complete the SAC network in English territorial waters.
Notes
The European Council Directive 92/43/EEC on the conservation of natural habitats and of wild fauna and flora requires member states to designate marine areas important for their wildlife and ecology as Special Areas of Conservation (SAC) to complement those already designated on land.
Natural England is working as the Government's statutory nature conservation advisor to identify and propose examples of marine habitats in territorial waters around the coast of England for designation as marine Special Areas of Conservation (SACs) to meet the requirements of the European Habitats Directive.
For more information on marine protected areas go to: http://www.defra.gov.uk/environment/marine/protect/mpa
Published 13 September 2012