News story
Students attend Civil Service Whitehall internship event
On 7 July 2011, Baroness Warsi, Minister without Portfolio, hosted more than 100 Year 9 students at the one-day Civil Service Whitehall internship event.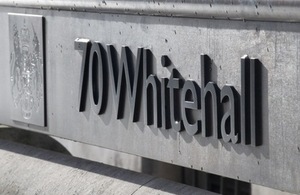 Today, Baroness Warsi, Minister without Portfolio, hosted more than 100 Year 9 students at the one-day Civil Service Whitehall internship event.
The Civil Service Whitehall Internship event is part of a new scheme which will provide talented students from under-represented socio-economic backgrounds with an opportunity to visit Whitehall, meet senior figures and develop their knowledge of the Civil Service.
Students, from across the country, arrived at the Foreign and Commonwealth Office and were given an insight into the workings of Government and the Civil Service from ministers and senior civil servants.
The afternoon session took place at Civil Service Live, the largest gathering of UK civil servants which each year hosts a wide variety of stands and exhibitions from public, private and voluntary sector organisations. 
Students then participated in a workshop entitled 'Skills to Succeed in Today's Workplace' with Sir Gus O'Donnell, Head of the Home Civil Service and Peter Jones, Businessman and judge from 'Dragon's Den'. The session provided students with careers advice, covering topics such as completing job applications, CVs, interview techniques and managing development.
Baroness Warsi said:
It has been really wonderful to have so many young people from across the country attend this event.
"This one day event has given students a taster of what it is like to work in Government and the Civil Service and hopefully inspired them to think about a career with us.
"Our internship programmes are designed for talented students who wouldn't normally have access to these opportunities and aim to provide practical skills to help students find employment and broaden their horizons.
Claire Mullane, Headteacher, Mortimer Community College, whose pupils attended the event, said:
It's fabulous that young people have been given such an exclusive opportunity to gain such insight into the inner workings of our parliament. It's a great boost to their confidence and self esteem and you never know, we may be witnessing our future Prime Minister in action.
Mr John McNerney, Headteacher, St Peter's RC High School said:
I think this is a fantastic opportunity for St Peter's pupils to gain an insight into how government works. It will help to raise aspirations even higher and it will give our young people great confidence to realise that they can achieve at the highest level if they put their minds to it.
The Civil Service Whitehall Internship Scheme was announced as part of the Social Mobility Strategy in April 2011. Three complementary programmes have been designed specifically for talented individuals from under-represented groups at:
undergraduate/graduate level, building on the existing Fast Stream Diversity internship structure. 
college level (Year 12), providing placements to increase professional experience and workplace skills.  
secondary school level (Year 9), running day-long programmes that aim to broaden horizons and tackle the poverty of aspiration that holds back too many young people.
Published 7 July 2011