Struggling households should seek support
Housing Minister Grant Shapps has today called on any households faced with the threat of homelessness this Christmas to seek help and advice…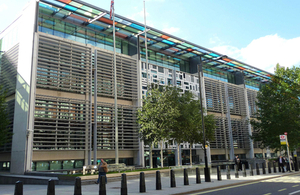 Housing Minister Grant Shapps has today called on any households faced with the threat of homelessness this Christmas to seek help and advice as soon as they can.
The Minister said that this country has one of the strongest safety nets in the world for families with children and vulnerable people as local councils are required to keep a roof over their heads, and highlighted the wide range of support available to those struggling to stay in their homes.
New figures today showed that 12,510 people were accepted as owed a main homelessness duty in the third quarter of the year - a rise of 6 per cent since the same period in 2010.
The Government is committed to tackling homelessness and protecting the most vulnerable. The £6.5 billion Supporting People budget has been protected to ensure support is there for those who need it most, and more than £400 million has been invested in homelessness prevention over the next four years. More than £42 million has also been invested to improve rough sleeper accommodation, and £20 million to help ensure that no-one spends a second night out on the street across the country.
Mr Shapps said anyone needing advice should speak to their councils who can provide help such as:
providing budget and rent advice for households having problems paying the rent and at risk of losing their home
helping find out if households are eligible for benefits to help with housing costs; and
speaking to the landlord on behalf of those at risk of eviction, or offering a rent bond to help them find alternative private rented accommodation.
Help is also available through independent charities such as Shelter, the National Debtline or Citizens Advice Bureau, who could provide advice and help with managing finances, or mortgage lenders, who may be able to make repayments more affordable.
Housing Minister Grant Shapps said:
It's easy to feel alone in the face of financial difficulty but there is help available. Every council has a legal duty to ensure that eligible homeless households are not 'roofless', and can provide reams of free advice and information to prevent homelessness in the first place.

That's why I would urge anyone facing the threat of being homeless this Christmas to seek help. My message is clear - the quicker you act, the quicker we can help.

Statutory homelessness remains lower than in 28 of the last 30 years, and I am determined that we pull out all the stops to ensure every household knows that help is at hand.
Notes to editors
Anyone struggling with their mortgage can go to the Directgov Mortgage Help website at www.direct.gov.uk/mortgagehelp (external link) for advice on getting their finances back on track.

Details of today's figures can be found at: www.communities.gov.uk/publications/corporate/statistics/homelessnessq32011.

Part 7 of the Housing Act 1996 places a duty on local housing authorities to secure suitable accommodation for any person who is eligible for assistance, homeless through no fault of their own and within a 'priority need' group. The priority need groups include (among others) pregnant women, people with whom a dependant child resides and people who are vulnerable as a result of old age or mental illness. It provides a consistent, national statutory framework for the provision of homelessness assistance across England.
Twitter
Keep up to date with the Department by following us on Twitter (external link).
Media enquiries
Visit our newsroom contacts page for media enquiry contact details.
Published 8 December 2011