Structural reform plan published
The plan, published today, will make it easier for the public to hold the Home Office to account, as it sets out key future policies along with deadlines and 'milestones'.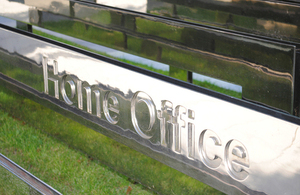 Published in all departments, the structural reform plans are part of the government's commitment to transparency.
The Home Secretary said, 'The draft Home Office structural reform plan sets out timings for our key policies, and includes milestones to which the public can hold us accountable. This is part of our commitment to transparent government.
 
'We are determined to make accountability democratic, not bureaucratic, and this document is one of the ways we plan to open up government.'
Key elements of the plan
The plan's main commitments include:
 
Crime: Overhauling licensing legislation to make sure local authority and police powers are able to remove licenses from, or refuse to grant licenses to, premises that are causing problems.
 
Police: Developing proposals to replace police authorities with directly elected people, who will be subject to strict checks and balances through locally elected representatives.
 
Immigration: Introducing an annual limit on the number of immigrants allowed into the UK from outside Europe; by 2013, a new border police force will secure UK borders. 
 
Civil liberties: Taking the Identity Documents Bill through Parliament. This will scrap ID cards and the National Identity Register, and also halt work on including fingerprints on passports.
 
Counter-terrorism: Strengthening the UK's ability to respond to a terrorist attack, focusing on police equipment and training.
Find out more
Published 13 July 2010