Press release
Strong school alliances driving up teaching standards
The government has established over 500 teaching schools a year earlier than planned.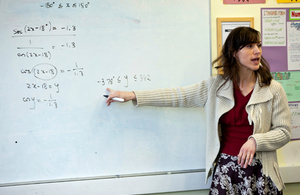 The government has established over 500 teaching schools - whereby the best schools work with struggling schools to get them back on track - a year earlier than planned.
Well over 1 million children are already attending a school which forms part of a teaching school alliance, meaning they are benefiting from partnerships with other schools in their local area.
Like teaching hospitals, the network of teaching schools is made up of the very best schools - those which are outstanding in their own performance and have the capacity to support other schools to improve teacher training, professional development and classroom practice.
In 2010 the government committed to establishing a network of 500 teaching schools by March 2015. This has been surpassed as the government announced today it has delivered 548 - covering 95% of council areas across England.
They are central to the government's delivery of a world-class education system where schools support each other and share resource and expertise locally, rather than being dictated to by Whitehall. They are responsible for:
recruiting and training the next generation of outstanding teachers
peer-to-peer professional and leadership development
supporting and improving other schools
identifying and developing leadership potential
engaging in research and development
Charlie Taylor, Chief Executive of the National College for Teaching and Leadership, said:
I am delighted we have exceeded our target for the delivery of teaching schools a year early, showing the obvious appetite from schools to take the lead in improving the system - it is teachers after all who are best placed to lead and drive improvement both in their local area and right across the country.
The government also announced today it has recruited over 1,000 national leaders of education - outstanding heads who support schools in challenging circumstances, as well as leading their own school - exceeding our target of 1,000 by March 2015. This programme is not only valuable for the schools supported but in the schools providing that support, who benefit from excellent staff development opportunities and better staff retention.
Charlie Taylor on teaching schools
Charlie Taylor on Teaching Schools
The government has established over 500 teaching schools a year earlier than planned. Charlie talks to Vicky Beer, Chair of the Teaching Schools Council, about the successes of teaching schools so far.
Further information
In 'The importance of teaching' white paper, the government set out to establish 500 teaching schools by March 2015.
The fourth recruitment round is now complete. Following a rigorous selection process 200 more schools became teaching schools last month. Following on from this success we are now recruiting for the fifth round.
We have recently published an impact report on the work of teaching schools and how they are responding to the 6 main areas of the teaching school role.
DfE enquiries
Central newsdesk 020 7783 8300
General enquiries 0370 000 2288
Published 26 May 2014