Strong foreign policy cooperation between France and the United Kingdom
Foreign Secretary William Hague met French Foreign Minister Laurent Fabius on 4 July in Paris. Talks focussed on UK-France cooperation on foreign policy issues, including the situation in Syria.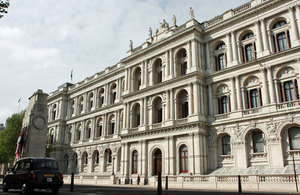 Speaking after the meeting the Foreign Secretary said:
"Thank you very much indeed. Ladies and gentlemen, it has been a huge pleasure to have the talks that we've had today. We have only been working together for a couple of months, but we are already good friends and this has been confirmed by our exchange of the books that we each wrote in opposition. As you said, opposition is OK as long as it's not for too long. We had a similar line in opposition and I believe that we are strongly aligned now in wishing to intensify and use to its full the strong foreign policy cooperation between the United Kingdom and France. I think that we have seen that in everything that we have discussed this afternoon.
I believe that our relationship with France is based on shared values, and shared responsibilities through our leading roles in the European Union, the United Nations, NATO and other organisations. As you know, our co-operation is exceptionally close on defence, foreign policy and security. And I believe on the basis of everything that we have discussed today that we will be able to take forward what is one of the strongest, deepest and widest bilateral relationships in the world on foreign and security questions.
Much of our discussion today, focused on the terrible situation in Syria. We stand together with the Syrian people facing a dire humanitarian situation after a more than a year of violence. We welcome the progress made in Geneva where we worked closely together at the weekend. And I look forward to returning to Paris later this week for the meeting of the Friends of Syria group. We were clear in our discussions that there must be a meaningful political process in Syria and that there can be no future for the Syrian people with Assad in power. If the roadmap agreed in Geneva does not quickly bring results on the ground, then our countries are ready to return to the United Nations Security Council and seek further measures.
We discussed the dangers posed by Iran's nuclear programme and we will continue to play leading roles on this issue, in the E3+3, in the European Union and in the United Nations. Following the inconclusive talks that the E3+3 have had so far with Iran, I believe Iran must ask itself whether it is prepared to engage meaningfully and take real steps to address the concerns of the international community. Those are things that it has not done so far, and Britain and France will work together in the European Union, as Laurent has said, to increase the peaceful pressure on Iran until it is prepared to engage meaningfully. Iran should be in no doubt about the strength of our resolve on this issue.
Of course, our talks have ranged widely across many other topics including the situation in the Eurozone, our shared development and security challenges in Africa, particularly including the Sahel, the situation in Afghanistan and so on. I am confident that we will work together to ensure that our deep bilateral co-operation will be stronger than ever in the months and years to come. Laurent, thank you for having me here today."
The Foreign Secretary will return to Paris for the Friends of Syria meeting on 6 July.
Published 4 July 2012