Strengthening UK ties with the Netherlands
Foreign Secretary William Hague and Minister for Europe David Lidington met with the Dutch Foreign Minister Uri Rosenthal today.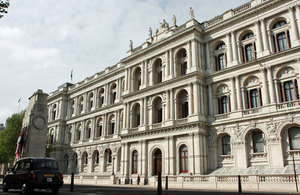 The Foreign Secretary said:
"I am delighted to be able to welcome Minister Uri Rosenthal to the UK. His visit helps to cement further an already strong working relationship and provides the opportunity to deepen bilateral and multilateral co-operation in the many areas where our views are closely aligned."
The Ministers discussed a broad range of issues including Afghanistan, Western Balkans, the Middle East Peace Process, the EU Budget and promoting UK-Netherlands commercial ties through the recently launched Strategic Business Dialogue.
The Foreign Secretary thanked Minister Rosenthal for Dutch support for international efforts to bring stability and security to Afghanistan. They agreed to work closely together to ensure the smooth transition of ISAF control to the Afghan National Security Forces.
The Ministers noted their disappointment at the failure to extend the moratorium on building Israeli settlements in the West Bank, and made clear that they were both in strong support of US efforts to find a way forward on the Middle East Peace Process.
On Strategic Business Dialogue, the Ministers agreed to implement plans to identify trade and investment opportunities in both countries, as well as joint opportunities in developing economies, in a number of key sectors.
On Europe, the Minister for Europe and Minister Rosenthal discussed follow-up to the recent European Council. Both agreed on the importance of continuing to work together to ensure the EU budget reflects the pressures on national budgets. The Ministers also expressed grave concern at the excessive use of force against demonstrators at a rally in Belarus after the Presidential Election on 19 December.
Published 22 December 2010