Strengthening the UK's ties with the Gulf and the Middle East
Minister for the Middle East Alistair Burt visited Qatar this week as part of the Government's continued efforts to build relations with countries in the Middle East.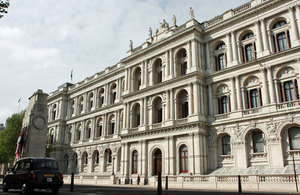 During the visit he met Ministers and senior officials, as well as representatives of civil society and the private sector in the region. He attended the 7th "Forum for the Future" in Doha, part of the G8-Broader Middle East and North Africa (G8-BMENA) Initiative.
Speaking during his visit, the Minister for the Middle East said:
"I am delighted to be back once again in the Gulf. The wealth of any region ultimately lies in its people, and I am glad of another opportunity to meet with Government and civil society leaders, to further strengthen the UK's ties with the Gulf and the broader Middle East region. I and the UK Government remain committed to deepening and widening our relationships with our partners around the Middle East, and look forward to continuing the discussions I have had over the last few days."
Published 13 January 2011