Street-level crime and local policing information tells the public what' s happening on their streets
People will be able to see what crime and antisocial behaviour has happened on their streets, and access details of neighbourhood policing.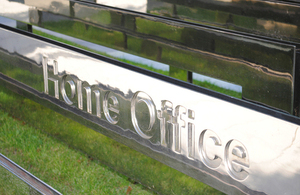 Interactive maps which can be accessed on computers and mobile phones will open the door on crime and policing information, allowing people to view crimes including burglary, violence and anti-social behaviour in their areas by doing a simple postcode search.
This transparent new level of crime and local policing information will ensure people can tell forces what their concerns about crime and disorder are, find out information about crime in their area and hold police to account for how well they are dealing with the issues that matter locally.
Transparency agenda
It forms a key part of the government's transparency agenda making crime and antisocial behaviour data available in an open format so that communities, local services and developers can use it to help people engage with the police in a meaningful way.
Home Secretary Theresa May said: 'We want people to be able to see what crime is happening on their street and to be able to tell their local police if they have concerns, and challenge them about how issues are being dealt with.
'From today, this new information will allow them to do just that. This is a major achievement, reconnecting the police and communities through the power of information.
'But this is just the start. We want to build on this by working with the police and communities to explore how we can go further and faster and drive forward even greater transparency across crime, policing and justice.'
Police minister statement
Minister for policing and criminal justice Nick Herbert said: 'I have been an advocate of street-level crime mapping since seeing it work in Los Angeles so I am excited to see this website launched today, particularly as I believe it goes further and is more comprehensive than any other scheme.  Police.uk will make England and Wales world leaders in this field, with every citizen able to access details about crimes on their streets.
'Together with the introduction of directly elected Police and Crime Commissioners, we are giving people the information and power to hold their local forces to account and ensure that crime in their neighbourhood is driven down.'
ACPO statement
The Association of Chief Police Officers' lead on crime information Deputy Chief Constable Neil Rhodes said: 'This new community-focussed approach means the public can access street level crime information simply by entering their street name or postcode into the website.
'Links to local neighbourhood policing teams will also be available and will help to build community involvement in policing.
'Making information available to the public will not only help to raise awareness of how the police service is working to reduce crime and disorder in communities, but will help reduce the fear of crime and in areas where crime is occurring, provide encouragement to the public to support the police with information and remain watchful when appropriate.
'The interest of victims are at the heart of this new approach and the Government is also working with the Information Commissioner to ensure that the identities of individuals are protected whilst giving people the information they need to challenge their police force and change their communities.
Quote from Louise Casey
The Commissioner for Victims and Witnesses Louise Casey said: 'Publishing information about street level crime and policing helps local people hold the police to account for what they are doing to tackle it.
'Greater transparency is vital if the public are to have the confidence to report crime and victims are to get the help and support they rightly deserve.'
The Information Commissioner Christopher Graham said: 'I welcome the drive to improve accountability through greater transparency. Crime mapping can be an effective means of letting people know what crimes are taking place in their local area although care needs to be taken as this can potentially have an impact on the privacy of individuals such as victims or witnesses.
'We are pleased to have had the opportunity to provide advice about the privacy implications and that our advice has been incorporated into many of the safeguards that have been put in place. It will be important that this initiative is reviewed to ensure that the privacy safeguards are effective in practice.'
Notes to editors
1.  The website can be accessed from: www.police.uk
The interactive map allows access to six categories of crime these are: burglary, robbery, vehicle crime, violence, other crime and anti-social behaviour (a total of all of these combined is also included).
3. In May 2010, the Prime Minister set out the Government's plans to open up data and information to the public. This included the commitment to, from January 2011, publish detailed local crime data statistics every month, so the public can get proper information about crime in their neighbourhood and hold the police to account for their performance. 
4. The information accessed through www.police.uk is the first phase of a wider package of work to make crime, justice and policing more transparent. Building on this the Home Office has appointed 'trailblazer' police force areas who will develop and work on innovative ways to deliver greater transparency locally. These are:
The Royal Borough of Windsor and Maidenhead - a Big Society Vanguard - will be publishing together with Thames Valley Police more detailed crime and anti-social behaviour data.  This will enable trends in late night anti-social behaviour to be identified and addressed, particularly in the licensing process. It will help residents identify priorities and work with the police in their communities.
Hampshire Constabulary - are developing a brand new online socially interactive facility which will allow public and partners the ability to see street level crime, incident and activity data on a daily basis and enable them to play an active part in the resolution of community problems. 
Lincolnshire Police and West Yorkshire Police - will explore how to supply sentencing outcome information alongside the details on crime enabling communities to see the crime and the outcome in one place and be better able to hold local criminal justice services to account.
Surrey Police  - are developing an interactive application for mobile phones which will improve communication between communities and neighbourhood policing teams. The application will allow people to see crime maps for where they live, receive updates on police interventions, and allow them to comment and vote on what matters most to them in their neighbourhood.  
Leicestershire Constabulary - will explore how to develop online case tracking systems for individual victims so that they can monitor the progress of their case online.
For more information contact the Home Office Press Office on 020 7035 3535.
Published 31 January 2011