World news story
Streamlined service will make it even easier for Chinese visitors to obtain visa for UK
A new streamlined visa service is to be offered to all Chinese visitors to the UK.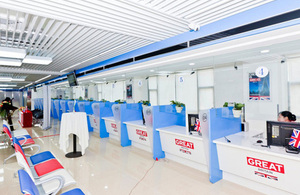 Improvements to visa rules for tourists and businesses have seen record numbers of visitors flocking to the UK – up 40% last year.
Now a more efficient system cutting down on paperwork and red tape will make it much easier for Chinese people to visit the UK and Europe on the same trip.
And to add to this, the UK offer to Chinese visitors of a new 24-hour visa service will be launched in August.
A pilot programme was launched last year for tour operators which allowed them to work from a single form in processing UK and Schengen visa applications – massively speeding up the process.
The scheme was warmly welcomed by Chinese tour operators and UK business leaders, and will now be extended to all Chinese visitors applying to come to the UK.
From the autumn, Chinese visitors will be able to use an Irish visitor visa to travel to the UK, without the need for a separate UK visa, and vice versa. The British Irish Visa Scheme will also be launched in India.
Talks are also ongoing with European partners about further streamlining visa processes with Schengen arrangements to make trips to the UK even easier for Chinese visitors.
Along with increasing alignment on the Schengen applications, a simpler, more user-friendly form for independent travellers will be launched on our new more integrated website. It features improved translation guidance on visa categories and how to apply. It has been designed for full integration on mobile and tablet platforms with a smarter form and more targeted questions translated into Chinese.
Home Secretary Theresa May said:
The number of Chinese people coming to Britain to visit and do business is soaring.

They already enjoy a first-rate visa service and these changes will ensure it is easier than ever before to visit the UK and see first-hand everything this great country has to offer.

Having a visa system is vital to protecting Britain's borders and we won't relinquish control of them by joining Schengen.

But I want to make sure they are as efficient as possible in welcoming tourists and business people from around the world.
The new improvements will build on significant successes introduced by the government, including:
Opening 12 Visa Application Centres across China, more than any other country.
Introducing Premium service lounges in Beijing, Shanghai and Guangzhou visa application centres, reducing waiting times for applicants and offering personalised assistance at every stage.
Developing a dedicated team based in the British Embassy in Beijing which supports business, tourism and education sectors with their visa needs.
Introducing a 3-5 day priority visa service (used by 11,000 people In July 2013 alone).
Launching a popular VIP Mobile Visa Service for high-value travellers who would like the convenience of UKVI going directly to them to collect their biometric data.
Reducing documentary requirements for the Chinese government-endorsed Approved Destination Scheme (ADS) for Chinese tour groups and repeat travellers.
Welcoming the announcement of the British Irish Visa Scheme, Irish Minister for Justice and Equality, Frances Fitzgerald, said:
The agreement between our two countries to introduce the British-Irish Visa Scheme is an historic development in the relationship between Ireland and the UK.

Both countries are committed now more than ever before to working together on visa and border matters and the British-Irish Visa Scheme reflects that unprecedented level of cooperation.

By enabling both of our immigration systems to work in tandem the Scheme will facilitate legitimate tourism and business travel between the UK and Ireland, including Northern Ireland, while also strengthening our external borders against abuse and illegal immigration.
Published 17 June 2014