News story
Streamlined process will cut unnecessary planning paperwork
Proposed measures, announced today by Planning Minister Nick Boles, will cut out unnecessary paperwork, bureaucracy and duplication.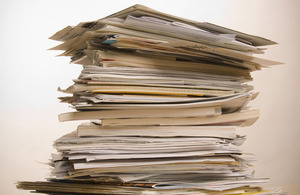 Householder and commercial applicants and local authorities frequently complain that they are asked to supply information as part of the planning application process that provides little real benefit but can be expensive and time consuming to produce.
A consultation has been published proposing improvements to some technical elements of the planning application process. Proposed measures include reinstating an applicant's ability to challenge councils about the information necessary for an application to be valid, and removing the need for councils to list their reasons for granting planning permission. This will remove unnecessary paperwork from the application process.
An additional proposal would take away an unnecessary statutory burden by removing the requirement to provide design and access statements with most minor applications, where statements add little value to the design process but add significantly to the cost and complexity of preparing an application.
This does not change the government policy on good design. The National Planning Policy Framework raises the bar on design standards and makes clear the importance of good design and accessibility on proposed development. The government still expects decisions to reflect the importance placed on good design.
Nick Boles said:
"We are determined to cut away unnecessary burdens and paperwork and provide a simpler, swifter planning system for all.
"The small changes we are proposing are another step in streamlining an application process that for too long has been weighed down by the need to provide irrelevant information and detail."
Further information
Following a consultation on streamlining information requirements for planning applications in July 2012 the government decided to take forward proposals for greater scrutiny of local lists, changes to the outline stage of the planning application process and amendments to the standard application form.
The earlier consultation highlighted other areas that could improve the planning application process. It is these additional areas that are now being consulted on.
The consultation on streamlining the planning application process closes on 4 March 2013.
Published 21 January 2013