Stoptober challenge reaches new high as country's biggest mass quit attempt
Brits could add 4,700 years to their lives and £34.5 million to their wallets.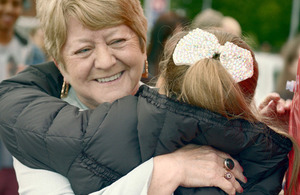 Nearly a quarter of a million people in England and Wales turned their back on their cigarettes this month to reap the financial, social and health benefits from taking part in the mass 28-day stop smoking challenge, Stoptober.
Research shows that stopping smoking for 28 days can extend your life by up to 1 week if you remain smokefree [1]. The new ex-smokers across England and Wales are therefore celebrating their first steps towards a healthier, smokefree life, and if they succeed in quitting for good, they could collectively add as much as 4,700 years of life to the population [2].
However, taking part in Stoptober has delivered even more than the health benefits; there are major savings in time and money:
the average smoker has 13 cigarettes a day [3], which equates to 364 cigarettes every 4 weeks. Stoptober would have saved them £141 each over 4 weeks [4], and if they remain smokefree, they could save £423 by Christmas and £1,696 in a year. Collectively, if all Stoptober participants quit for the 28 days this month they would have saved over £34.5 million

with the average cigarette taking approximately 4 minutes to smoke [5], this Stoptober could have saved the average smoker over 24 hours by not smoking; and cumulatively Stoptober participants would have gained over 680 years in spare time
Backed by a huge number of supporters - including celebrities, charities, sports clubs and stop smoking services - Stoptober has helped thousands of people try and stay free from cigarettes through support packs, a 28 day app, social media activities and tips and advice from a host of celebrity well-wishers.
Actress and singer Kelsey-Beth Crossley, took on the 28 day stop smoking challenge to improve her health and protect her singing voice. Commenting on her quit attempt, Kelsey-Beth said:
I did find the 28 days a real challenge – especially to begin with – but knowing so many other people were going through the same thing was really motivating and encouraging.

Well done to everyone who has managed to get through 28 days smokefree – long may it continue and good luck for the future.
Joanne Eccles, 40 from Gateshead said:
Completing the 28 day challenge is a massive triumph and I feel a real sense of achievement. It wasn't easy but all the support from friends and family really helped me along the way.

What's even better is I have saved over £200 and now I am going to take the kids away for a weekend. I can't believe how much money I used to waste every month.
Stoptober started on 1 October 2013 and ran for 28 days. Research shows that those who stop smoking for 28 days are 5 times more likely to stay smokefree. Last year saw over 160,000 people successfully complete the 4-week challenge.
It is not too late to start your own 28-day challenge – for more information and to download the Stoptober app visit the Stoptober website.
Ends
References
[1] University of Toronto: 21st Century Hazards of Smoking and Benefits of Cessation in the United States.
[2] Based on 245,000 people each gaining 1 week of life over a 28 day period if they remain smokefree.
[3] Average daily consumption of 13 manufactured cigarettes per smoker (2011 General Lifestyle Survey).
[4] Based on £7.77 for a packet of cigarettes (Office of National Statistics, May 2013).
[5] Based on a Stoptober survey of 500 smokers in October 2012.
Notes to editors
Stoptober started on 1 October and ran for 28 days and included TV and outdoor advertising, digital activity, posters, cards and in-pharmacy literature, roadshows and national and regional PR.

TV adverts, films and images are available from Dropbox.

Commentary from charitable partners is also available.

Public Health England's mission is to protect and improve the nation's health and to address inequalities through working with national and local government, the NHS, industry and the voluntary and community sector. PHE is an operationally autonomous executive agency of the Department of Health.

For more information on the biggest stop smoking challenge of its kind, search 'Stoptober' online.
www.gov.uk/phe or follow us on Twitter @PHE_uk
Public Health England press office
Wellington House
133 - 155 Waterloo Road
London
SE1 8UG
Published 29 October 2013