Stop hindering help for the homeless with bureaucracy
Grant Shapps hears from people on the frontline in the fight against homelessness.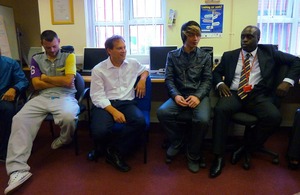 In his first visit to Birmingham as Housing Minister, Grant Shapps heard from people on the frontline in the fight against homelessness how the most vulnerable in society can be best protected while the government works to tackle the deficit.
Expert advice
Mr Shapps met workers and residents at St Basil's foyer to see for himself how government funding could be spent more wisely.
After listening to views at the homeless centre, the minister said it was clear the current system of endless inspections and form filling is not the best way to help young people at risk of homelessness.
Grant Shapps said:
"When the people who run 1 of the top agencies in the country for preventing youth homelessness say the current system to manage them is a burden, it's time to listen.
"Let's make no mistake - it's vital that these centres are well run. But rather than civil servants in Whitehall inventing new bureaucratic hoops to jump through, why don't we listen to the experts on the ground.
"I'm determined to help organisations like St Basil's who do an excellent job at helping young homeless people and turning their lives around. So in future there will be more trust and less bureaucracy, and a much more sensible and systematic way to maintain standards."
Centres of excellence
St Basil's is the national Registered Social Landlord Centre of Excellence in the prevention of youth homelessness and 1 of the largest agencies in the country.
They are 1 of the leading organisations in the country working on youth homelessness, and have an excellent track record of delivering a wide range of accommodation and support options for young people. They provide a safe and supportive housing environment and a bridge to a settled future in work and accommodation.
Published 24 September 2010