World news story
St.Lucia stands against sexual violence through summit hosted by Angelina Jolie, William Hague and forum in Castries
A forum on the issue of sexual violence in St Lucia and the Caribbean will be held on 10 July in Castries through a partnership between the British High Commission, Government Information Services and local stakeholders.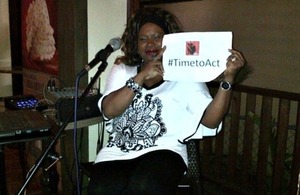 The forum will be relayed to London and seen by delegates at the Global Summit to End Sexual Violence in Conflict that is being hosted by UN High Commissioner for Refugees Angelina Jolie and UK Foreign Secretary William Hague. Foreign Minister Alva Baptiste will be attending the summit.
Rape and sexual violence is used as an instrument of war around the world. It destroys whole communities and ruins the lives of women and men, boys and girls. Its effects last long beyond the original crimes and its use perpetuates the cycle of conflict. Over the last eighteen months the political will to tackle these terrible crimes and injustices has increased significantly. But political commitments don't automatically lead to change on the ground.
The Special Envoy of the UN High Commissioner for Refugees, Angelina Jolie, and the UK Foreign Secretary, William Hague, will host a global Summit in London from 10-13 June to bring together all those who can help turn political will into practical action. It will be the biggest meeting ever held of its kind. Governments, civil society, the media, military, judiciary and the public will attend. The aim is to see practical steps agreed at the Summit that will drive change on the ground: shattering the culture of impunity that surrounds these crimes; providing more support to victims; shifting the stigma of shame from victims to perpetrators.
Public outrage and political will resulted in cluster munitions and chemical weapons being banned. It is hoped that the Global Summit to End Sexual Violence in Conflict will be the moment that the world wakes up and says that rape and sexual violence are not an inevitable part of war.
There will be events held across the globe in June including this one in St Lucia, ensuring the spotlight of the world's media falls on the issue and brings public pressure to bear on governments and the international community that now is the time to act to end these crimes. If you would like to get involved we are asking people around the world to take photos (or videos) of themselves holding a sign saying #TimeToAct and to share this on social media using the hashtag #TimeToAct.
Published 6 June 2014