Step up to make a difference for vulnerable children
From today the most talented professionals can apply to train as social workers, working with vulnerable children and families to make a real difference to their lives.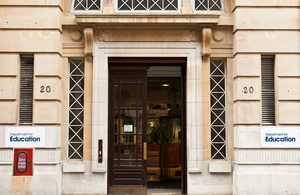 The Step Up to Social Work programme has been specifically designed for high-calibre graduates who want to change career, train to become qualified social workers whilst gaining intensive hands-on experience working within a local authority.
Edward Timpson, Minister for Children and Families said:
I want to attract the highest calibre candidates to become social workers for vulnerable children.

Step Up to Social Work offers a training route to exceptional people who can draw on their wider professional and life experience.

They can deliver the very best for the children and families who need them, and feel rewarded by making a real difference to children's lives.
The 14-month scheme allows the trainees to work towards a Postgraduate Diploma in Social Work and qualification to practise as a social worker. Trainees will be supported throughout with one-to-one support in the workplace, as well as support from their university tutors. They are also guaranteed a competitive bursary of over £19k while they complete their training.
The programme is one part of the Government's wider reforms to drive up the skills and experience of the workforce and ensure social workers have the training they need to make the best decisions about vulnerable children.
We have spent over £184 million since 2010 on the social work bursary and Step Up programme;
The first 168 Step Up participants gained their qualification in Social Work last year; and
Over 80 per cent are now working for the local authority that they trained with.
Today the Government is also announcing a further £6 million funding to extend the Assessed and Supported Year in Employment (ASYE) programme until 2015.
The ASYE programme has been in place for newly qualified social workers since September 2012. Jointly funded with the Department of Heath it provides a good induction, additional professional development, and an assessment of newly qualified social worker's skills and ability, at the end of their first year in work.
As part of our on-going commitment to social work reform we have also asked Sir Martin Narey to look at the quality of education and training for social workers, and advertised the new Chief Social Worker posts which play a pivotal role in driving up quality and the status of the workforce.
ENDS
Notes to Editors:
The application window will open on 11 March 2013 and close on 17 May 2013. There will be several stages in the assessment process, including an application and assessment center. Candidates can apply by completing an online application form. More information is on the Department for Education website.

Eligibility criteria for Step Up are:
a. a First or 2:1 degree in any discipline
b. grade C or above GSCE in English and Maths (or equivalent)
c. significant experience of working with children, young people and families
d. emotional resilience to deal with the demands of supporting needy children and families
DfE enquiries
Central newsdesk - for journalists 020 7783 8300
General enquiries - for members of the public 0370 000 2288
Published 15 March 2013