World news story
Step towards more integrative society in Serbia
Feasibility Study on Improving teaching-learning process of Serbian as non native language has been presented by the Coordination body for municipalities of Presevo, Bujanovac and Medvedja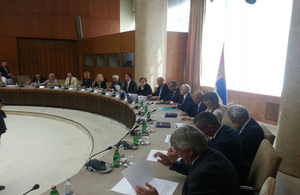 Her Majesty's Ambassador Denis Keefe has supported a feasibility study on improving teaching-learning process of Serbian, as non native language, in primary schools in municipalities of Bujanovac and Presevo, which was presented on 29 August, in the Palace of Serbia. The study includes research findings on existing methods of teaching-learning Serbian language in Albanian schools, in south Serbia, but also provides a set of recommendations for the improvements of current practices.
British embassy has long-term commitment towards making Serbian society more integrative, but also towards ensuring full respect of minority rights. Whilst minority languages are very important for identification of minority groups, proficiency in the State language is also essential to ensure all members of society can participate in public life.
We hope that the Study would serve as the basis, for the Ministry of education for taking concrete steps, in order to tackle insufficient level of Serbian language teaching in south Serbia schools. The study has been developed by the Coordination body for municipalities of Presevo, Bujanovac and Medvedja, with the support of British Embassy in Belgrade and the OSCE High Commissioner on National Minorities.
Published 1 September 2014