World news story
Stay safe and have a good time at San Fermin
Read our advice for visitors on how to stay safe during the celebrations and the Running of the Bulls, taking place 6-14 July 2014.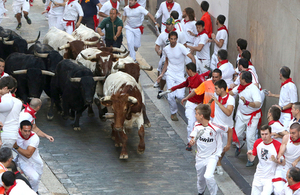 Every July, Pamplona is host to the vibrant celebrations of the San Fermin Festival. One of the main events during this week is the Running of the Bulls. Whilst the vast majority of British tourists didn't have any problems last year, we would like to provide you with some important information to keep you safe from harm, keep your passport intact, and to make sure you are informed about the local laws and customs to ensure that you enjoy the festival without any hiccups.
Please be aware that you must be 18 or over to take part in the Running of the Bulls.
Before you go
Before you set off to Pamplona, here are five simple things to do:
Get travel insurance and check what it covers
Apply for a European Health Insurance Card
Carry an extra photocopy of your passport and leave a copy at home
Tell family or friends in the UK where you'll be staying
Fill in the last page of your passport with your emergency contacts
When you get there
Keep your valuables in a safe place e.g. locked in the hotel safe. It is prohibited to run with the bulls with bottles, glasses, cameras, video equipment, bags or backpacks. Recent changes in law mean you will be fined for doing so.
Remember to wear suitable footwear; flip flops, high heels and sandals are prohibited.
Make a note of the Emergency Services number in Spain: 112
Carry a photocopy of your passport with you and leave the original locked away
Have one of your cash cards and some cash separate from the rest of your valuables just in case
Be extra careful in large crowds, keep your cash and mobile in a zipped pocket
Follow the instructions of the event organisers and Spanish Police whenever necessary
Hot weather, alcohol or drug use can leave people in a vulnerable state. Do not run if you feel unwell. Find the nearest local health centre or hospital
Avoid walking home on your own; taxis are readily available in the city
If something goes wrong:
The Emergency Services number in Spain is 112.
The British Consulate-General in Madrid is available to offer help and support if you have been hospitalised, arrested or are a victim of crime:
For more information please visit our website.
Contact numbers for the British Consulate are +34 902 109 356 or +34 91 334 2194.
The festival programme and other useful information can be found on the official San Fermin Festival website.
Published 4 July 2014