Press release
Statistical Press Notice – General Practice Patient Survey July to September 2011 National Results
Today Ipsos-MORI have published the first wave of results for the GP Patient Survey covering July to September 2011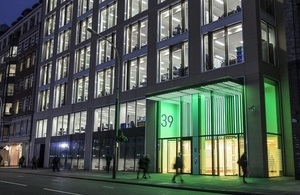 Today Ipsos-MORI have published the first wave of results for the GP Patient Survey covering July to September 2011 which they are carrying out on behalf of the Department of Health.
Headline results of the survey are:
GP Services:
Nationally performance on Primary Medical Care Services is high
88% of patients rate their overall experience with their GP practice as good;
88% of patients were eventually able to get an appointment at their GP surgery last time they tried, although 12% of patients did have to call back nearer the time;
93% of patients say their appointments are convenient;
79% rate their experience of making an appointment as good;
93% of patients have confidence and trust in the last GP they saw;
81% are satisfied with their surgery opening hours.
Long Term Conditions
64% of people with a Long Term Condition feel supported to manage their care;
93% feel that they are confident to manage their health.
Your State of **Health** Today
59% of people with long term conditions reported some form of pain and discomfort, compared to 16% of people who do not have a long term condition;
When asked about self-care, 13% of people with a long term condition reported some problems, compared to only 1% of people without a long term condition.
Out-of-Hours
Overall, over two-thirds of patients describe their experience of out-of-hours GP services as good (71%), although more than one in ten rate it as poor (14%);
Confidence and trust in out of hours clinicians is generally very high at 82%.
NHS Dental Access
92% of respondents were successful in getting an NHS dental appointment last time they tried;
83% rate their overall experience of NHS Dental Services as good.
Full release is available at www.gp-patient.co.uk
In addition further analysis and comment on the NHS Dental Access results can be found on the DH website at
http://www.dh.gov.uk/en/Publicationsandstatistics/Publications/PublicationsStatistics/DH_131777
Notes to Editors:
The GP Patient Survey for 2011-12 has been redesigned in order to continue to gather the most relevant data on GP and NHS Primary Care Services.  Changes have been made to the questionnaire design, sampling methodology, survey frequency as well as the methodology used to weight results to account for non-response bias.  Therefore no results from the 2011-12 survey can be compared to previous years, even where questions appear to remain the same.
Published 15 December 2011