Press release
Stagecoach/Virgin consortium given chance to resolve limited competition concerns arising from the East Coast rail franchise award
ICRL, a subsidiary jointly owned by Stagecoach and Virgin Trains, has the chance to avoid an in-depth merger investigation into its successful bid to run the East Coast rail franchise, if it can offer an acceptable solution to address competition concerns.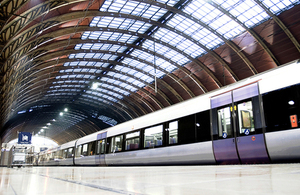 The Competition and Markets Authority (CMA) reviewed whether competition concerns could arise given the coach and rail services already operated by Stagecoach Group plc (Stagecoach). The CMA found that the franchise award did not raise significant concerns in most areas, but could potentially reduce competition on the following routes:
the overlap of East Coast rail services with East Midland Trains services operated by Stagecoach between Peterborough and Grantham and between Peterborough and Lincoln. On both of these overlapping rail services there is no other rail operator and only a minimal coach service
the overlap of East Coast rail services with Citylink's coach services, which are operated and jointly owned by Stagecoach, between Edinburgh and Dundee as well as between Edinburgh and Aberdeen. The only competing public transport services are provided by ScotRail and Arriva Cross Country.
The CMA's analysis recognises that important aspects of rail services are regulated and also governed by increasingly prescriptive franchise agreements. However, the CMA in its phase 1 investigation found that there is a realistic prospect that the award of the East Coast rail franchise to Inter City Railways Limited (ICRL) would lead to higher fares or reduced service quality for rail passengers travelling on these overlapping routes. In addition, the CMA was concerned that the award to ICRL may result in higher coach fares or reduced coach services quality (including a reduction in frequency) on these overlapping coach and rail services routes, given that coach services are unregulated. The CMA did not have sufficient evidence to suggest that private transport, including transportation by car, is a sufficiently strong constraint on any of the overlap flows it considered.
The CMA looked carefully at whether competition concerns could arise on other routes, but found that competition between East Coast rail services and existing services of Stagecoach and Virgin Group Holdings Limited (Virgin Trains) was limited and/or that ICRL will continue to face sufficient competition from other operators. This includes routes between London and Scotland, where both the East Coast and West Coast rail services will be operated by consortia of Stagecoach and Virgin Trains. The evidence examined by the CMA indicated that competition between the East Coast and West Coast rail services was limited and that air services between London, Edinburgh and Glasgow provide significant rivalry to the rail services.
ICRL now has the opportunity to offer undertakings to resolve the competition concerns identified by the CMA within 5 working days after receiving the CMA's reasons for its decision. The CMA has until 20 February 2015 to decide whether these might be acceptable as a suitable remedy. If this is the case, it will consult on ICRL's proposed undertakings before accepting them. If ICRL does not offer undertakings, or the CMA does not accept them, the CMA will refer the East Coast rail franchise award for an in-depth phase 2 investigation. In that situation, the CMA expects that ICRL can start operating the East Coast franchise from 1 March 2015 as planned, although the CMA may decide to impose a 'hold-separate' order for the duration of its investigation, aimed at avoiding integration of businesses or loss of competition between East Coast services and existing services, without impeding proper operation of the franchise.
Andrea Coscelli, Executive Director, Markets and Mergers, and decision maker in this case, said:
Our investigation has shown that no significant competition concerns arise on most routes where East Coast services overlap with existing Stagecoach or Virgin Trains rail or coach services. However, we found that the award could give rise to higher fares or reduced service quality for rail passengers travelling between Peterborough, Grantham and Lincoln and for coach and rail passengers travelling between Edinburgh, Dundee and Aberdeen, in some cases possibly affecting thousands of consumers relying on public transport services. ICRL can now offer a resolution to these concerns to avoid the award being referred for an in-depth phase 2 investigation.
Notes for editors
The CMA is the UK's primary competition and consumer authority. It is an independent non-ministerial government department with responsibility for carrying out investigations into mergers, markets and the regulated industries and enforcing competition and consumer law. In April 2014 the CMA took over the functions of the Competition Commission and the competition and certain consumer functions of the Office of Fair Trading.
Under the Enterprise Act 2002 (the Act) the CMA has a duty to make a merger reference, resulting in a full phase 2 merger investigation, if the CMA believes that it is or may be the case that a 'relevant merger situation' has been created, or arrangements are in progress or in contemplation which, if carried into effect, will result in the creation of a relevant merger situation; and that the creation of that situation has resulted, or may be expected to result, in a substantial lessening of competition within any market or markets in the United Kingdom for goods or services.
Under the Act a 'relevant merger situation' is created if 2 or more enterprises have ceased to be distinct enterprises; and the value of the turnover in the United Kingdom of the enterprise being taken over exceeds £70 million ('the turnover test') or as a result of the transaction, in relation to the supply of goods or services of any description, a 25% share of supply in the UK (or a substantial part of the UK) is created or enhanced ('the share of supply test').
Under section 66(3) of the Railways Act 1993, entering into a rail franchise agreement constitutes an acquisition of control of an enterprise under the merger control provisions of the Enterprise Act 2002.
The CMA considers that it is under a duty to make a phase 2 merger reference in this case. However, the duty to refer is not exercised while the CMA is considering whether to accept undertakings in lieu of a reference. ICRL has until 13 February 2015 to offer an undertaking to the CMA that might be accepted by the CMA. If no undertaking is offered or accepted, then the CMA will by 20 February 2015 refer the award of the East Coast rail franchise for a phase 2 merger investigation.
If the award of the East Coast rail franchise is referred, the CMA may impose an interim order, or accept interim undertakings from ICRL, to prevent or unwind pre-emptive action.
All the CMA's functions in phase 2 merger investigations are performed by inquiry groups chosen from the CMA's panel members. The appointed inquiry group are the decision makers on merger investigations.
The CMA's panel members come from a variety of backgrounds, including economics, law, accountancy and/or business; the membership of an inquiry group usually reflects a mix of expertise and experience (including industry experience).
The text of this decision will be placed on the case page as soon as is reasonably practicable.
Enquiries should be directed to Siobhan Allen, (Siobhan.Allen@cma.gsi.gov.uk) or by ringing 020 3738 6460.
For more information on the CMA, see our homepage, or follow us on Twitter @CMAgovuk, Flickr and LinkedIn. Sign up to our email alerts to receive updates on merger cases.
Published 6 February 2015