Staffordshire flag flies above Whitehall
The flag representing the historic county of Staffordshire has been hoisted above the department's offices.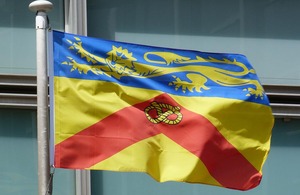 To celebrate the important place counties play in the nation's cultural heritage Secretary of State Eric Pickles has asked that English county standards be flown alongside the Union Flag outside DCLG's Eland House headquarters in Victoria.
Flags are being flown for a week at a time in alphabetical order or - in cases such as Cornwall and Yorkshire - to coincide with particular county days.
The county of Staffordshire probably first came into being in the decade after the year 913 which was the year in which Stafford - the strategic military fording-point for an army to cross the Trent - became a secure fortified stronghold and the new capital of Mercia.
The county symbol depicted on the flag, the Staffordshire Knot, is seen on an Anglian stone cross that dates from around the year 805 that still stands in Stoke churchyard. The knot is thought to be either an ancient Mercian symbol or a symbol adopted from Celtic Christianity which was brought to Staffordshire by Lindisfarne monks around the year 650.
Eric Pickles, in a speech to the Flag Institute last week, said:
England's counties continue to form an important part of our cultural and local identity in this country and many people remain deeply attached to their home county. This sense of pride and shared identity is one of the things that binds communities together.

The historic English counties are 1 of the oldest forms of local government in Western Europe. Their roots run deep. And no amount of administrative reshuffling can delete these longstanding and cherished local identities.
Philip Atkins, Leader of Staffordshire County Council said:
We are all incredibly proud of Staffordshire and it will be a pleasure to see it fly from the department's headquarters.

In Staffordshire we are proud of both our historic heritage and what we have around us today, and we have high hopes for the future. The county council is a leader in reforming local government services and we are gaining a national reputation for our work transforming how those services are delivered to our local communities.

Our county is a wonderful mix of traditional and modern. We have vibrant towns set in wonderful countryside. We are also attracting more and more hi-tech businesses that are helping lead the economic recovery.
Further information
The Staffordshire flag has been kindly loaned by the Association of British Counties at no charge.
More information on Staffordshire can be found on the Staffordshire History website
Photographs of the county flags will be added to the DCLG Flickr channel
Published 23 May 2011