Staff College Exceeds 1000 Student Mark
British Superintendent Ralph Logan blogs from Afghanistan. Earlier this week we wrote an article for the EUPOL newsletter which headlined with "Staff College exceeds 1,000 student mark".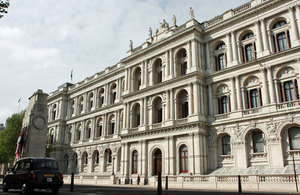 For some people, I suspect the significance of this article, and the 1,000 student figure caused little impact. But, for those of us involved intimately in the Staff College project, and for those of us more interested in the future of the mission in Afghanistan, and the development of the Afghan National Police, this milestone is significant.
From a humble beginning, an innovative and bold training vision has become a reality. The Staff College began training in November 2010 to a class of approximately 30 students learning some fundamental principles around Command and Leadership. Since then we have expanded the number of courses run to over 30 in our ever expanding curriculum ranging from conflict management to media engagement, and we are now able to teach up to 250 students at any one time. Classrooms are full of students, curriculum writing goes ahead at a rate of knots, and teachers and translators are working flat out to deliver high a quality learning experience to students. All of this takes place in the temporary classrooms at the Afghan National Police Academy.
As a Senior Training Advisor it's been a challenging and hugely rewarding journey, and so I do feel a sense of pride when we talk about over 1,000 students receiving training. And, let's not forget the type of learning we are developing here. Others take care of basic police training for new recruits, but our mission is to take responsibility for the development of senior leaders within the Afghan National Police. That means we have developed leadership training for those officers performing some of the most challenging posts within the country. This includes the pivotal District Commander position as well as Provincial (covering several districts) and Zone (covering several provinces) Commanders. These courses provide comprehensive training in leadership, command, change management, dealing with complex operations, communication skills and the importance of police and prosecutor cooperation.
We shouldn't under estimate the impact this learning has upon the local communities served by these police commanders. The feedback we have received from students tells us that this type of training has been a long time coming, and that the practical application of many of the subjects being taught will make a real difference to police and community engagement, and improve relations between the public and police. In addition we know that this training enhances the professional response of police to incidents as they unfold, whether it is routine traffic accidents, or the terrible aftermath of a bomb attack. We are also running Senior Investigating Officer (SIO) leadership courses covering a range of investigative topics including initial response by SIOs at critical incidents, homicide investigation, crime scene investigation, and general leadership training and we are looking forward to adding a CID faculty to our temporary facilities. Some estimates put the number of officers requiring investigative training at between 10,000 and 20,000, so you can see we have our work cut out.
This 1,000 student headline is a key milestone, but it's just the end of the beginning, with so much more work to do. This week will see the signing off of the contract to build our new purpose built facility here in Kabul which has a capacity to take 300 students at any given time. Alongside that is the new facility we are building in Bamian Province to house 200 students at any one time. As plans develop amongst coalition partners about how we continue to support the Afghan National Police in the future, the Staff College will continue to play a key role in helping develop the current and future leadership of the Police.
Search the news archive
Published 12 October 2011