Press release
Stability and funding to protect hardworking families, deliver more homes and local jobs
New measures to ensure councils, businesses and homeowners have the funding and powers they need to continue to drive the economy forward.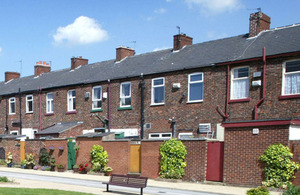 New measures will provide stability for councils to keep Council Tax down, secure £1 billion major investment in housebuilding to speed up delivery of homes and cut unnecessary planning processes.
Details announced in today's (5 December 2013) Autumn Statement ensure councils, businesses and homeowners have the funding and powers they need to continue to drive the economy forward, build new homes and provide local jobs.
The statement confirmed today that the measures the government is taking to support the housing market and homebuyers are working.
Housing starts are now 89% above the levels in the early part of 2009 and the approval rate for planning applications is at a 13-year high.
The government is focused on continuing this by prioritising the building of homes and continuing to help people into home ownership so they have security to work and raise a family.
Councils are protected from further reductions and have been given financial stability to continue to transform local services, protect families from council tax rises and new powers to raise funds to build new housing.
New planning measures will speed up the delivery of homes and businesses by cutting down unnecessary processes, reduce delays, stop burdensome conditions and provide more certainty about where sensible development should take place.
Communities and Local Government Secretary, Eric Pickles, said:
This is a good deal for councils and gives them the stability to help hard working families by keeping Council Tax down and make the changes needed to support their communities.

House building remains critical to our economic recovery and we are providing the funding, the reforms and encouraging the innovation that will get homes built, give councils more ability to provide housing, and create local jobs.
Measures in the Autumn Statement include:
Building new homes
increasing housing supply is essential and a £1 billion 6 year investment programme will fund infrastructure needed to unlock new large housing sites that will deliver around 250,000 homes

strengthening the role councils play in providing new homes for their communities by allowing councils to bid for up to £300 million of additional borrowing against their housing revenue accounts to provide new affordable housing

councils outside of London will be able to keep all their New Homes Bonus and have full control over how they use it to support new homes in their area

extending support for hard working families in affordable and social housing by introducing a Right to Move for those needing to relocate to take up a job or training, introducing agents to guide householders through the Right to Buy buying process and a £100 million fund to improve access to mortgage finance
Boosting local growth
supporting local businesses through a £1.1 billion package of business rate measures, including reducing the 3.2% business rates increase in 2014 to 2015 down to 2%, and extending the doubling of relief for small businesses for a further year to support 540,000 of the smallest businesses

helping the high street with a business rate discount of £1,000 for smaller retail premises and new reoccupation relief of 50% to help bring empty shops back into use; also, ratepayers will continue to keep their small business rate relief entitlement for a year where they take on a second property

steps to improve business rates administration and provide more transparency and efficiency includes reforms to appeals, a commitment to clear 95% of the current backlog of appeals by July 2015, and a change to allow businesses to pay rates over 12 months instead of 10 months

allowing councils new flexibility to use £200 million of asset sale receipts for 2 years to pay for one-off costs for service reforms to support their communities

plans to remove an unfair Council Tax surcharge on family annexes and home improvements, to help support extended families by cutting three taxes on home improvements; this is a new national discount for all family annexes (not just those for older people) and will increase provision of local affordable housing for families both young and old; it will save a family an average of £485 a year on a typical £2,427 combined yearly bill
Better planning processes
supporting the speedy delivery of more homes by removing unnecessary burdens, conditions and red tape in the application process that are a barrier to work starting on site sooner

improving plan making including making it a statutory requirement for a council to put a Local Plan in place; 76% of councils currently have a published Local Plan, helping shape where development should and shouldn't go

supporting smaller house builders keen to build homes by consulting on a new 10 house threshold for Section 106 affordable housing levies to stop unviable contributions hampering the delivery of homes, and which forces up the cost of new housing

making sure applicants have confidence their application will be dealt with swiftly by consulting on designating a council as under performing if fewer than 40% of decisions are made on time - an increase from 30%

providing a boost to high streets and town centres by permanently allowing change of use from retail to restaurant or leisure uses, and removing restrictions on mezzanine floors in retail premises, where this supports town centres
Further information
Eric Pickles has written to local authority leaders following the Autumn Statement 2013.
Published 5 December 2013