Press release
St David's Day message from the Secretary of State for Wales
David Jones sends his best wishes for St David's Day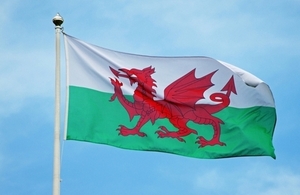 On St David's Day, people across Wales will take time to celebrate, not only the life of our patron saint, but also what it means to be Welsh.
Our unique Welsh heritage stems from our history, our traditions and – perhaps above all – our ancient language. But we are also witnessing the emergence of a new Wales; a confident, proud, outward-looking nation.
This Government has Wales, and Welsh interests, very much at its heart.
Echoing the words of David, this Government will 'do the little things' necessary to ensure we achieve our long-term plan - to build a stronger, more competitive economy and a fairer society for the people of Wales.
But we are doing the great things, too. Over the last 12 months, we have announced a £250 million investment in a new prison in Wrexham, supported the financing of Wylfa Newydd nuclear power station, and, most recently, topped up our original £57 million investment in superfast broadband with an additional £12million.
This investment is already bearing fruit. In Wales, we now have more people in work than ever before, with an unemployment rate below the UK average. Every new job means more security for Welsh people, enabling them to look forward more confidently to the future.
We have put in place measures to reduce the cost of living to the people of Wales. We have increased income tax thresholds and frozen fuel duty to help hardworking people become more financially secure.
This Government is also on the side of Welsh businesses. We are creating the right environment for businesses to thrive by backing small business and enterprise with better infrastructure and lower jobs taxes.
Over the last year, we have seen more businesses succeeding and thriving here in Wales as a result, creating employment opportunities and contributing towards greater economic growth.
I am looking forward to marking the achievements of Welsh businesses at a St David's Day reception later this week in London, where many distinguished guests from Wales's business community will be in attendance.
I firmly believe that the key to Wales's long term prosperity will be to take advantage of the opportunities presented by a growing global market. We already have some excellent Welsh businesses in Wales that are trading internationally, showing that today's Wales can succeed in the global race.
I have recently returned from Oman and Malaysia, as part of a visit to promote the United Kingdom as a destination for business. Only last week I welcomed a delegation from Indonesia to Wales to explore what more can be done to strengthen business and education links between Wales and Indonesia, for the long-term benefit of the Welsh economy.
Later this month, with UK Trade and Investment, I will host a reception at the residence of the British Ambassador in Paris for Welsh businesses already operating, or interested in operating, in the French market.
It is essential that we capitalise on growth in overseas markets, and the Wales Office will do all we can to help foster new opportunities for Welsh businesses.
Our cultural heritage is also a critical element to the health of our local economies.
With Wales's first tourism week fully underway, Wales Office Ministers have already had the opportunity to experience some of the attractions we have on our doorstep.
And with the NATO Summit set to take place in south Wales in September we want to ensure that tourism in Wales - as well as the wider Welsh economy - takes full advantage of the unprecedented levels of international attention that will focus on our country.
In 2014, we will also come together as a nation to mark the centenary of the outbreak of the First World War. Over a four year programme of events, we will honour the lives and bravery of all those who served in the war, both in the military and on the home front. Today, I would like to send my warmest wishes to the people of Wales, either living at home or working away and in particular those serving on military operations around the world.
From the Commonwealth Games to the Dylan Thomas centenary celebrations, 2014 will certainly provide Wales with plenty of opportunities to shine on the world stage. Let us use this St David's Day as a milestone to look ahead with renewed vigour and optimism.
I wish you all a Happy St David's Day. Dydd Gŵyl Dewi hapus i bawb.
Secretary of State for Wales, Rt Hon David Jones MP
Published 28 February 2014