News story
St David's Day
St David's Day messages from the Prime Minister David Cameron and the First Minister of Wales Carwyn Jones.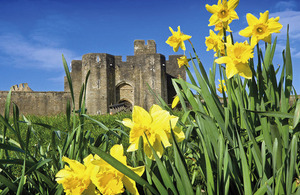 Prime Minister David Cameron said:
This St David's day people throughout Wales and across the world will be celebrating all that it means to be Welsh. From one of Europe's oldest living languages, a great literary tradition and incredible music, to world-class sport, mouth-watering cuisine and a thriving business environment - we can all take pride in such a rich culture and heritage.
I'm pleased to be flying the Welsh flag over Downing Street today and to wish everyone Dydd Gŵyl Dewi Hapus - a very happy St David's Day.  
First Minister of Wales Carwyn Jones said:
Happy Saint David's Day!
I am delighted to be able to send you the warmest greetings on behalf of the people of Wales as we celebrate our national day on March 1st. What a pleasure it is to see the St David's Day celebrations taking place across the world.
2012 has proven to be another great year for Welsh sporting achievement, no more so than at London 2012. The games had a strong Welsh flavour thanks to the fact that all 4,700 medals for London 2012 were made in Wales, at the Royal Mint, Llantrisant. Many of those medals came back to Wales. We congratulate the achievements of our medallists in both the Olympic and Paralympic Games, and thank all the Welsh competitors for the pride and joy they gave us.
2012 was a momentous year for the people of Wales, and the National Assembly of Wales. History was made in November when the first piece of legislation created wholly in Wales for more that 600 years came into force when the Official Languages Bill was sealed and given Royal Assent.
Global economic conditions remain difficult. Despite these challenging times Wales remains open for business. With our proximity to the European markets, good transport infrastructure, world-class research facilities and an excellent quality of life, Wales is well positioned to capitalise on opportunities for growth. The Welsh Government is very accessible and flexible in its approach to the support it can provide.
We need to take a proactive approach to supporting Welsh business during these difficult times. We are working hard to engage globally by expanding our network of overseas representation. Ministers have also been getting on the road to open doors for Wales.
It is not all doom and gloom, the 'Size of Wales' campaign has reached its target of raising 2 million pounds to protect an area of tropical forest the Size of Wales. This world leading initiative has engaged people and businesses across Wales to support its work in Central and Southern America and Africa.
2013 provides an opportunity to celebrate something dear to the Welsh people, our culture. We are proud to be known as a land of poetry and music and Wales is doing more than ever to showcase this to the world.
The summer brings a range of internationally renowned festivals to Wales. The 26th Hay Festival, Bill Clinton's "Woodstock of the Mind" is a globally important literary festival, that this year has spread from Mid-Wales to include 15 festivals across 5 continents.
The International Eisteddfod at Llangollen takes place in July and we look forward to welcoming competitors from around the world to share their talents.
August sees the National Eisteddfod of Wales, the pinnacle of the Welsh cultural calendar. The Eisteddfod is a celebration of Welshness, of our culture, of the concept of belonging to a community and of priding ourselves on our country and its achievements. This year Denbighshire is playing host, ensuring that there will be plenty to do for the 150,000 plus visitors that are expected at the Maes.
The Greenman Festival in the Brecon Beacons, now in its 10th year, enjoys a burgeoning reputation as one of the best music festivals of the year due to the quality of the music, the friendliness of the welcome and the beauty of the backdrop.
In October, Cardiff will welcome the World music Expo, WOMEX, the leading international professional world music market. Thousands of musicians, promoters, festival organisers, media and music lovers from all over the globe will visit Cardiff to soak in a world of music whilst discovering the traditions and music of Wales.
October is also the start of a year long celebration of Dylan Thomas. He would have been 99 this year and a programme of events that will highlight the artistic, cultural, educational and commercial importance of one of Wales's most revered writers is planned to take us up to the Centenary of his birth in 2014.
2013 promises to be another busy and exciting year when the people of Wales can be proud of our rich cultural heritage. We look forward to sharing this heritage through our performers and festivals this year. I wish you all a happy St David's Day! Dydd Gŵyl Dewi hapus i bawb!
Further Information
Read more about St David's Day at the Welsh Government website
Follow peoples St David's Day messages on twitter using #St Davids Day and #Dydd Gwyl Dewi
Published 1 March 2013