News story
St Anne's flag flies at heart of government
Eric Pickles raises the flag of St Anne's on the Sea.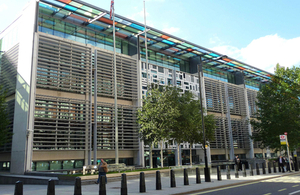 Local Government Secretary, Eric Pickles, today (26 July 2014) raised the flag of St Anne's on the Sea outside his department's headquarters in Whitehall as part of an ongoing drive to encourage communities to create their own flags and celebrate local identities.
This government is championing local communities continuing to cherish and celebrate traditional ties and community spirit. Ministers have previously changed the law to make it easier to fly flags without a permit from the council - these new freedoms include flying the St Anne's on the Sea flag.
The Secretary of State has praised the Flag Institute for its guide to help communities to design their own flags.
St Anne's on the Sea Town Council worked with its local Civic Society and the Flag Institute on the design of its flag which was first raised in the town last year. It features a lifeboat, representing the Laura Janet, which lost all of its 14 crew during a rescue attempt in 1886. The poignant flag was hoisted to mark St Anne's Day, which is celebrated on July 26 every year.
Eric Pickles, Secretary of State for Communities and Local Government, said:
I'm delighted for Her Majesty's Government to recognise and celebrate St Anne's Day by flying the town's flag in Whitehall. This sense of pride and shared identity is one of the things that binds communities together.

I urge other areas across the country to come together and design their own flags to celebrate their local identity and community spirit.
Sally Taylor, Town Clerk at St Anne's on the Sea Town Council, said:
The community's response to the flag has been extremely positive and we've produced window stickers, mugs and brooches featuring the flag design, to help everyone fly the flag in their homes and workplaces.

It's fantastic that our flag will be proudly flown in London as well as in Lancashire.
Further information
This is part of a series of steps to champion England's local and national identities. Earlier this year, the department launched a new initiative to support the 'tapestry' of traditional English counties being displayed on street and road signs. The government also published a new online interactive map of England's county boundaries.
Planning rules have been changed to allow for councils to put up boundary signs marking traditional English counties – including the likes of Cumberland, Huntingdonshire, Westmorland and Middlesex. The government has also proposed changes to highways regulations to allow traditional county names to appear on boundary road signs.
The government has previously changed Whitehall rules to allow local and county flags to be flown without planning permission, and supported the Flag Institute in encouraging a new wave of county and community flags to be designed and flown by local communities.
Published 26 July 2014