Sri Lanka: one year on from conflict
How DFID support has helped people displaced by conflict.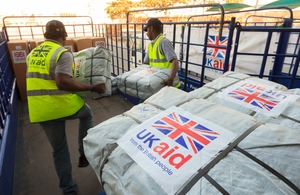 18 May 2009 finally saw the end of one of the world's longest running civil wars, as Sri Lankan government forces defeated the Liberation Tigers of Tamil Eelam (LTTE) – the Tamil Tigers - following many months of heavy fighting.
This was the final act in a 26-year long conflict, which was borne out of Tamil demands for a separate state in the north of the island nation of Sri Lanka.
Between September 2008 and April 2009, hundreds of thousands of civilians became caught in the fighting and were forced to leave their homes. Many of these Internally Displaced Persons (IDPs) had to repeatedly move as the battle lines changed. Many people were killed and thousands were injured in the final stages of the conflict.
A large-scale humanitarian crisis began to unfold as the IDPs fled the conflict zone, and the UK was at the forefront of efforts to respond. By late May 2009, some 300,000 people were detained in a large camp complex called Menik Farm, near the northern town of Vavuniya in the heart of Sri Lanka's 'rice bowl' region. Access to the camp for aid agencies was limited, although this has now improved.
Getting people home
Since November 2009 increasing numbers of displaced people have been allowed to return home from the camps. As of 6 May 2010, UN figures indicate that that approximately 216,000 people have now returned to their home areas or are staying with host families, and that there are now fewer than 73,000 people remaining in the camps in Vavuniya, Jaffna and Mannar.
UKaid from the Department for International Development has provided £13.5 million of humanitarian assistance in Sri Lanka since September 2008, to support the ongoing efforts of the United Nations, the International Committee of the Red Cross (ICRC) and other humanitarian agencies.
Villages are being surveyed and cleared of landmines and unexploded ordnance left over from the conflict. Fertile rice-producing land is being cleared and re-sown. Shelter, water and sanitation facilities are being restored.
This funding has supported a wide range of critical work to help save lives and enable those displaced by the conflict to return to their home areas. Although there is a long road ahead towards full recovery, this assistance is crucial in giving people the initial support they need to be able to begin to rebuild their lives.
Key facts
Recently our support has helped:
the International Office of Migration (IOM) provide safe and dignified transportation for 41,000 civilians and their belongings from the camps back to their homes or to host families in the Mannar, Mullaittivu, and Kilinochchi areas
the United Nations Office for Project Services (UNOPS) to provide transitional shelter for 2,000 displaced families returning to the Vanni region
two British NGOs – The Halo Trust and The Mines Advisory Group – to undertake mine surveillance and clearance activities and help make areas safe for displaced families to return to their homes and communities. In the first two months of this year The Halo Trust has helped make 16,000 mines safe
the United Nations High Commissioner for Refugees (UNHCR), to enable them to continue providing their cash grant to all returning displaced families during the first three months of this year. Each household is given a cash grant of 25,000 Rupees (approx £150GBP) to help them cover shelter or other essential household needs while they restart their lives
the UN Food and Agricultural Organisation (FAO) to provide rice paddy seeds to 8,800 returning IDPs to enable them to become self sufficient in food production
All of DFID's funding is provided directly to impartial international agencies. None is provided directly to the Government of Sri Lanka.
Published 19 May 2010