Press release
Sports Minister urges sector to keep up momentum on Women in Sport
The Government's Women and Sport Advisory Board has published a Report with Recommendations to maintain progress in Women's Sport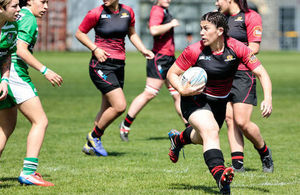 Minister for Sport Helen Grant today welcomed the publication of a report outlining progress made in women's involvement in sport over the past 18 months.
The Government's Women and Sport Advisory Board, has also made a series of recommendations to keep up momentum in the area.
Building on the board's interim report published in October, the document identifies areas that have improved or need more work, and provides recommendations for further success, to ensure momentum is not lost.
Minister for Sport Helen Grant said: "This report highlights how far we've come, yet also identifies key areas which need further improvement.
"We're seeing progress in terms of female representation on sports boards and women being celebrated for their sporting achievements but I want to see more being done to narrow the investment gap between men and women's sport.
"I want to see women's participation rates soaring. And I want to see more coverage of women's sport – not just in broadcast, but print media too. The recommendations of this board are promising and I am sure with further commitment to this area from stakeholders across sport we can keep up the momentum we have built."
Progress made includes the rise in media coverage of women's sport, greater recognition of women's sporting achievements, an increase in commercial investment in women's sport, and more women in sports leadership positions helping to shape sport in this country.
A particular triumph was the Women's Sport Conference held at Lord's in October, hosted by the Sports Minister in partnership with Women in Sport. The event brought together some of the biggest players in women's sport to discuss the main issues and share best practice and future plans.
Areas that need further development have also been highlighted, with a list of recommendations to help make progress.
To encourage more women to consider working in sports media, board members have suggested to sports journalism training providers to be more proactive about recruiting women onto their courses.
A further recommendation by the board is for the Department for Culture, Media and Sport is to continue discussions with OPTA and Press Association to ensure women's sport is included in the fixtures calendar sent to journalists.
Despite female participation in sport increasing overall since the Olympic and Paralympic Games, there is a 2 million participation gap between the amount of women and men who play sport regularly.
Although the National Lottery-funded £10m This Girl Campaign has been created to inspire women to take part in sport, to help close this gap, the Board recommended the Government and Sport England set specific targets for NGBs to increase women's participation. In response Minister Helen Grant has asked Sport England to work with NGBs to set specific targets for all sports to increase women's participation.
Another suggestion in order to boost numbers is to create a Women's Sport Week in June, with broadcasters signed up championing women's sport.
Building upon the success of recognising women's sporting achievements, the board has recommended that at least 40% of all Sport Honours are awarded to women in each round of Honours.
The report further states that to continue to improve women's representation on sports boards and in prominent sporting roles, it is advised that NGBs have at least 30% women on their boards by the end of the next Parliament.
Following the KIA sponsorship deal the England Women's Cricket team, board members are keen to close the gap in investment in men's and women's sport, and have suggested setting up a working group to tackle this area.
Helena Morrissey, CEO, Newton and Founder, 30% Club, said: "I've really enjoyed being part of such an action-oriented Board. The past 18 months has seen momentum develop across a whole range of areas - though there's obviously more to do.
"We need to continue to develop a virtuous circle where more girls play sport, more companies sponsor women's sport and there's more consistent media coverage - in turn encouraging girls to consider new challenges. "I'm optimistic that the current high level of intent and enthusiasm can develop to the point where equality in sport in this country becomes the norm."
Clare Connor, Head of Women's Cricket, England and Wales Cricket Board, said: "I've been honoured to be part of the Women and Sport Advisory Board and I hope that our thinking and recommendations can make a real difference.
"Ultimately we hope that this piece of work will help positively influence cultural attitudes and thinking towards women's sport, to build upon the great work that National Governing Bodies and other deliverers are already focused on, with the ultimate goal of 'normalising' sport and exercise to be part of the daily lives of every woman and girl in this country."
Notes:
The Women and Sport Advisory Board is chaired by Minister for Sport Helen Grant. The board counts Baroness Brady CBE (vice chair of West Ham United), Andy Cairns (Executive Editor, Sky Sports News), Clare Connor OBE (Head of Women's Cricket, ECB), Tracy Crouch MP, Karen Earl (Chair of European Sponsorship Association), Simon Green (Head of BT Sport), Helen Morrissey CBE (CEO, Newton and Founder, 30% Club), Judy Murray (Tennis Coach and GB Federation Cup Captain), and Barbara Slater OBE (Head of BBC Sport) among its members.
For more information call DCMS Press Office on 020 7211 6971
Published 24 March 2015