Press release
SportInspired secures Big Society Award from the Prime Minister
Innovative social enterprise has delivered over 200,000 hours of social action and created 6 jobs.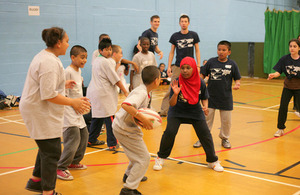 SportInspired, a social enterprise that uses the power of sport to help individuals and communities to enjoy happier, healthier lives, has been recognised by Prime Minister David Cameron with a Big Society Award today.
The enterprise was founded in Hackney in 2007 by Rich Raynes and Pete Thomond in recognition of a serious social need and is now a fully self-sustaining social enterprise, expanded from East London to cover England, Scotland and Wales.
On average, each SportInspired Games programme engages 60 business volunteers, 300 young people from local schools, a local sports centre, at least 8 community sports clubs and a combination of other local partners such as youth groups, police, health and local authorities.
By creating positive interactions with children from less well-off areas and adults from successful businesses, they break down multicultural and socioeconomic barriers inspiring young people and shifting the perception of adults about future talent.
Since 2009, SportInspired has:
worked with leading brands, including Sky, Deloitte, Prudential and UBS
delivered 100 Games programmes across the UK
delivered over 200,000 hours of social action, and created 6 jobs
improved, confidence, activity levels and life skills of 40,000+ people
Prime Minister David Cameron said:
SportInspired are bringing together people in communities across the country and using the power of sport to build young people's life skills, confidence and to improve their health. I'm impressed by their fast growth and their simple, yet powerful ambition.

SportInspired is measuring its social legacy by the numbers of young people joining sports clubs or volunteering after taking part in their programmes. This really is the Big Society in action.
Dr. Peter Thomond, co-founder said:
Our vision: by 2016, every child leaving primary education in the toughest 10% of communities across the UK will participate regularly in at least one sport they love… our nation doesn't lack resources, our Games support communities to be more resourceful with what we've got.
Their programmes include competitive multi-sport festivals where between 200 and 500 children and 10 to 200 business volunteers compete in 6 to 10 local community sports (including disability sport) and focus on team spirit.
This creates a free community-building service for schools, young people, sports clubs and youth groups, as businesses pay to use this service to deliver staff development, engagement, community investment and brand goals.
The tangible social legacy of each programme is measured by:
young people joining sports clubs
clubs and schools sharing valuable knowledge
securing the on-going support of new volunteers
SportInspired goes beyond the critical task of getting children interested in new sporting opportunities and improving their health and fitness. They empower communities by connecting schools, sports clubs and the talent and resources of business to create virtuous cycles of knowledge-sharing, networking and even new financial support.
Notes to editors
SportInspired is a social enterprise whose mission is to improve confidence, activity levels and life skills of young people who need it most. Initially founded by Rich Raynes and Pete Thomond in 2007 as a fun social project, by August 2010, Rich gave up his job as a teacher, Pete cut his hours as a business consultant by 50% and they both decided to turn their project into a social enterprise.
Businesses use SportInspired's Games to achieve talent, brand and community development goals through SportInspired's Community Games Platform. In doing so, they help local schools, public and third sector organisations to improve social cohesion, youth attainment and health through introducing local young people to local sports. In the last 3 years, leading brands, including Sky, Deloitte and UBS, have worked with SportInspired to deliver 78 SportInspired Games programmes across the UK. This has improved the confidence, activity levels and life skills of nearly 40,000 people.
SportInspired are national community sports partners for Sky and Business in the Community. Their endorsements from directors of international businesses, schools and sports bodies are plentiful.
Consultant, financial services:
We were told at the start that we'd get more out of the day than we put in. That was one of the understatements of the year.
Sonny, 9, Burbage Primary School, Hackney, London:
I went to the Hackney Community Games I didn't like sport, and now I do.
Mary-Ann Ramsey, coach, New Cambell Netball Club:
The games are very worthwhile because it gives the community a chance to find out what clubs are on offer to them. It helped us to promote our services at the club, and promote boys to get involved in netball.
SportInspired Mission:
to improve confidence, activity levels and life skills of young people who need it most
to help everyone find a sport that inspires them - we believe there is a sport out there for everyone
to turn our SportInspired Games into part of the social fabric of the UK: where business and communities up and down the country come together at least once a year to enjoy the community-building benefits of grass roots sport
For more details on the work of SportInspired please visit the SportInspired website.
Please email SportInspired's Co-founder and Director of Operations and Safety richard.raynes@sportinspired.org or call 078 5574 1482.
The Big Society Awards
The Big Society Awards were set up by the Prime Minister in November 2010. The aim is to acknowledge individuals and organisations across the UK that demonstrates the Big Society in their work or activities. In so doing, the aim is also to galvanise others to follow.
The award focuses upon 3 specific areas:
Outstanding contribution to community
people, projects and organisations that enable communities to drive change themselves
projects and organisations that allow the community to identify solutions
people, projects and organisations that inspire others to contribute to their community
Improving lives and society through innovation, collaboration and new partnerships
people and organisations taking new approaches to public services
successful collaboration and partnerships between public, private and voluntary sector - working together to benefit communities
Engaging in social action
people, projects and organisations taking action in their community
working together for social change (eg through creating groups, campaigns, movements)
generosity of time, money, skills and other resources – in support of social action
Launching the awards, the Prime Minister said:
There are some amazing projects and remarkable voluntary work going on in towns and cities up and down the country, by all kinds of organisations from large enterprises to tiny grassroots schemes and inspirational individuals.

These awards are a chance to pay tribute to those making a valuable contribution to their community, the real champions of the Big Society, but perhaps more importantly, I hope they will motivate many others to take action, get involved and drive change in their area.
Nominations come in from the general public after which there follows a process of scoring and short-listing by civil servants and a further short-listing by a panel of ministers and independent external experts. This panel makes recommendations to the Prime Minister who makes the final decisions about who to make the award to. 12 winners are decided each quarter meeting and then announced once a week throughout the year.
Big Society Awards - inspired by 2012: keeping the Olympic flame burning across the UK
The Olympic and Paralympic Games last summer enthralled the nation and inspired over 70,000 people to volunteer their time and energy. Since then, people have engaged with their local sports clubs, tried a new sport, implemented community initiatives, ignited whole towns and villages to commit to keeping the spirit of 2012 alive.
To celebrate the anniversary of the 2012 Games, a number of awards will be announced for innovative groups, individuals and organisations whose work exemplifies the Big Society and whose Olympic-style achievements are making a real difference in communities.
Enquiries: Lucy Windmill 07795 445 197
Over 80 winners have been announced to date, including:
Community Action Through Sport Promoting, recognising and rewarding all young people for positive community action with sports based awards.
AFC Wimbledon AFC Wimbledon is a professional Football League Two club, which is currently celebrating its 10-year anniversary. The club is still owned by its supporters via the one-fan, one-vote Dons Trust. Since formation, the club's officials, supporters and 300 volunteers have organised a number of community initiatives.
For a full list of winners visit the Big Society Awards website.
Published 19 July 2013