News story
Spending Round: security the foundation of prosperity says Home Secretary
Home Office commits to savings of 6.1% in 2015/16 Spending Round – prioritising policing and protecting counter-terrorism policing capabilities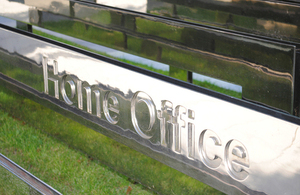 Today's Spending Round settlement sees the Home Office committed to making resource savings of 6.1% or £639million in real terms in 2015-16.
Police budgets
Police counter-terrorism capabilities will be protected and policing will be prioritised with savings to the police grant in 2015/16 of 4.9 per cent or £269million in cash terms. This figure is reduced even further when the money forces receive via council tax is taken into account.
Savings in the policing budget will be made through reduced bureaucracy, greater collaboration and smarter procurement to get better value for money from contracts. A new police innovation fund of up to £50m will be introduced to incentivise collaboration across forces and with local authorities.
The Home Secretary has also confirmed today government funding for the police in 2014/15. Once again policing has been prioritised with savings of 5.75 per cent or £285million in cash terms being made to the government grant – falling to 4.1 per cent when factoring in council tax. Individual force-level grants for 2014/15 will be announced later in the year.
Borders and immigration
Significant savings will be delivered by Home Office borders and immigration through better use of intelligence and technology and better deployment of staff. Improved visa processing, including less paperwork and more online applications, will make our visa system quicker, more secure and easier to use.
Increases to visa fees will ensure that those coming to the UK are contributing accordingly. These increases will be matched by substantial improvements to visa processing services to ensure the UK remains open for business.
Back office savings
The Home Office administration budget will be cut by 50 per cent from the 2010-11 level.
Home Secretary Theresa May said:
As Home Secretary I have three clear priorities: to cut crime, reduce immigration and prevent terrorism. Ensuring that our streets, communities and borders are safe and secure is the foundation upon which economic stability and growth are based.

The Home Office has already shown it can deliver for the country despite budget pressures. Police and immigration reforms are working – crime is down more than 10 per cent and net migration has been cut by more than a third.

The economic circumstances we inherited mean tough decisions are needed across government but the Home Office can and will continue cutting crime, reducing net migration, protecting the public from terrorism and helping to build our nation's prosperity.
For more information on how the government is reducing the deficit click here
Published 26 June 2013