Press release
Spelman urges one voice during European negotiations
Defra Ministers are fighting in Europe for all of the UK's farmers, fishermen and taxpayers.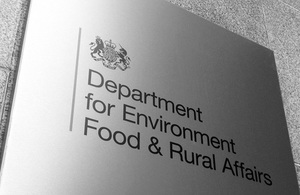 Defra Ministers are fighting in Europe for all of the UK's farmers, fishermen and taxpayers, Environment Secretary Caroline Spelman said today after a meeting in London between Defra's four Ministers and Ministers from the Devolved Administrations.
The meeting was held to discuss the reform of the Common Agricultural Policy and Common Fisheries Policy, and to discuss how Defra and the Devolved Administrations should work together on relevant EU issues.
Caroline Spelman said:
"I want farmers and fishermen in Scotland, Wales, Northern Ireland and England to know that I'm on their side and I'll be using the full weight of the UK's membership of the EU negotiations to fight for the best deal for the whole of the UK.
"I want to build a spirit of trust with the Devolved Administrations, where there is a shared understanding that Defra is representing the best interests of everyone in the UK. Although within the UK we will have differences about how we approach certain policies at times, it's important that the rest of Europe hears one voice from the UK when we are involved in negotiations on issues which are fundamental to our fishing and farming industries and to the health of our environment. I was delighted to hear colleagues from the Devolved Administration say today that they recognise the importance of us all working positively together."
Defra Ministers last week began Common Agricultural Policy (CAP) negotiations on behalf of the UK at the EU Agriculture and Fisheries Council following the publication of reform proposals by the European Commission. The UK wants deep and genuine reform of the CAP in order to deal with the future challenges of international food security and protecting wildlife and biodiversity.
Mrs Spelman added:
"We're disappointed that the CAP proposals as they stand could actually take us backwards, so we have been building alliances across Europe so that we can get meaningful reform which will provide the best deal for farmers, consumers and the environment.
"Today's meeting with the Devolved Administrations was very constructive and I'm pleased with the very positive level of engagement shown by everyone. We are going to keep working with all parts of the UK as the Ministerial team here at Defra leads the negotiations in Europe in the coming months."
Notes
Present at today's meeting at Defra's main offices at Nobel House in London were; Caroline Spelman (Environment Secretary, Defra)
Jim Paice (Agriculture Minister, Defra)
Richard Benyon (Environment Minister, Defra)
Lord Taylor (Environment Minister, Defra)
Alun Davies  (Deputy Minister for Agriculture, Fisheries, Food and European Programmes, Welsh Assembly Government)
John Griffiths (Minister for Environment and Sustainable Development., Welsh Assembly Government)
Richard Lochhead (Cabinet Secretary for Rural Affairs and
Environment, Scottish Government)
Michelle O'Neill (Minister for Agriculture and Rural Development, Department of Agriculture and Rural Development, Northern Ireland Executive)
Published 25 October 2011