Press release
Speed limit exemption for life-saving services
The department is consulting on extending speed limit exemptions to other emergency services.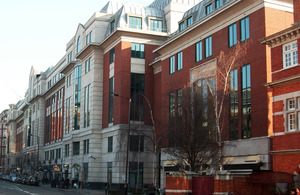 Proposals to allow drivers from a wider range of emergency services to break the speed limit in order to save lives, have been published today (27 November 2012) for consultation by Road Safety Minister Stephen Hammond.
Police, fire and ambulance services are already allowed to exceed speed limits in the course of their emergency response duties and this is not changing.
The 3 month consultation exercise will examine the possibility of extending the exemption to other services including those carrying organs for transplant, bomb disposal units and coastguard vehicles.
The consultation will also look at amending road safety legislation so that emergency drivers would be required by law to complete high-speed training before exceeding the limit. But this will not place any additional burden on police, fire and ambulance services which already run an effective voluntary training scheme.
Road Safety Minister Stephen Hammond said:
Police, fire and ambulance service drivers are highly trained individuals who are at times required to exceed the speed limit in order to save lives. It is only right that we look at allowing other services whose duties can mean the difference between life and death to exceed the speed limit when responding to emergencies.

It is also time to look at the legal requirements of emergency vehicle training so we can build on the rigorous standards the police, fire and ambulance services have already applied through their code of practice.
While emergency service drivers are not exempt from the offences of dangerous and careless driving, the current legislation allows drivers in some circumstances to break speed limits legally as well as exempting them from certain traffic regulations.
Notes to editors
The Speed limit exemptions consultation can be viewed on DfT's web pages.
Services currently exempt from speed limits include police, the UK Fire Service, ambulance services and the Serious Organised Crime Agency (shortly to be replaced by the National Crime Agency).
The full list of services who have expressed an interest in being exempt are listed within section 5 of the consultation document, they include:
Ministry of Defence bomb disposal units
fire services (other than for fire and rescue authorities which are covered)
conveyance services transporting human tissue for transplant
blood transfusion services
mountain rescue
mine rescue
radiation emergency services
coastguard services
lifeboat launching services
The emergency services set up a joint emergency services' speed limit exemption driver training group to develop their procedures. It also includes representatives from the Driving Standards Agency, the Institute of Advanced Motoring and the Royal Society for the Prevention of Accidents. It has developed a code of practice which is based around current best practice for each of the exempt organisations and reflects what is being taught there, recognising that there are organisation specific competencies. The consultation proposes using this code of practice as the basis for the regulated standards for the mandatory training courses to be used following the proposed legislative change.
The consultation includes a set of criteria designed to establish the rationale of each request, balancing the operational need for the exemption against any potential road safety risk.
The consultation proposes amending the Road Traffic Regulation Act 1984 and make any legal exemption dependent on drivers attaining the core competencies identified in the emergency services' code of practice.
Roads media enquiries
Media enquiries 020 7944 3021
Out of hours media enquiries 020 7944 4292
Switchboard 0300 330 3000
Related documents
Published 27 November 2012