Spectrum and TV content discussed by the industry
Key issues considered in latest Comms Review events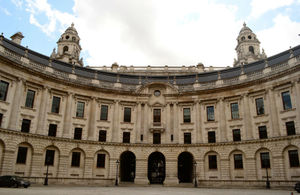 A lively roundtable discussion on spectrum mangement took place last Thursday. Ed Vaizey, Communications Minister, chaired the discussion, highlighting the Government's ambitions, the policy context and areas to focus on.
Richard Lindsay-Davies shared the outcomes of Digital TV Group's recent seminar on future uses of spectrum, and Charles Jenne outlined Ofcom's broad approach to spectrum management.
Representatives from industry were invited to give views on changes to the regulatory framework that could result in more efficient spectrum management, and on future developments that may affect the spectrum environment.
Discussion topics included:
the wider international framework
Ofcom's duties and powers
would SMEs benefit from increased access to spectrum?
do current regulations  act as a barrier to spectrum trading?
could incentive auctions and/or a compulsory purchase scheme act as means to more efficient use of spectrum?
licence exempt spectrum
Tip: click on 'Playlist' at the bottom of the video window to jump to a different section of the seminar or simply use the 'Next' button to skip forward to the next section once you are already watching a section.
'Investment in TV content' seminar
The last Communications Review seminar this side of summer considered ways to incentivise investment in TV content on Monday, continuing and building on the significant successes the UK has experienced in this sector. Ed Vaizey opened the seminar, and three panel sessions followed:
1. 'Supporting UK production' - a discussion on the specific issue of tax incentives for high-end TV production, chaired by producer Stephen Garrett. The sector was urged to look at the HM Treasury consultation on creative sector tax reliefs, and to get in touch to provide evidence
2. Examining potential levers available to Government to maximise investment in UK content, in particular EPG prominence and platform carriage fees, chaired by Ofcom's Tim Gardam
3. How effective the current legislative and regulatory regime is, and what changes may be required in light of future developments, chaired by Janice Hughes, Redshift
Watch videos of the first two seminars
The Consumer perspective seminar - access video footage
Competition in Content - access video footage
Giving your response
Comments on the discussion papers accompanying all seminars in the Comms Review series are invited by 14 September - please respond either through a public comment or a private submission.
Next seminar
The next Comms Review seminar, Supporting growth in the radio/audio sector, will take place in September.
You can keep up to date with the Communications Review using the #commsreview hashtag on twitter.
Further information
Published 31 July 2012