News story
Specialist teams to fight modern slavery at UK Ports
Specialist anti-slavery teams to be deployed at the border to help identify and protect victims of modern slavery.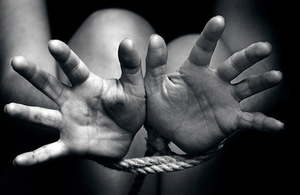 The Border Force-led teams will be based at major ports and tasked with identifying potential victims of trafficking, disrupting organised crime gangs, and collecting intelligence on trafficked adults and children.
The first of the specialist teams will begin work on 1 April at Heathrow, replacing and extending Operation Paladin which was set up in 2004 with the Metropolitan Police Service to provide expertise and protection for children at risk across London. Border Force officers at Heathrow will maintain these close links with the Metropolitan Police and Local Children's services to ensure victims are safeguarded by the relevant agencies.
The new teams will be rolled out to Gatwick and Manchester later in the year with further ports to be identified over the coming months. The specialist teams will:
Ensure a national approach;
Cover safeguarding for adult victims of trafficking as well as child victims; and
Provide a higher degree of professionalism at the frontline.
Modern Slavery and Organised Crime Minister, Karen Bradley, said:
Our front-line Border Force officers are aware that they could be the first authority figure in the UK to have contact with a potential victim of modern slavery. Their role is vital in identifying and protecting victims and ensuring there is no easy route into the UK for traffickers.

The new specialist teams will build on existing skills and joint working and extend that expertise around the country. They will be supported by the National Crime Agency which will bring its child protection expertise to bear in cases involving children.

At the same time we are piloting independent advocates for child victims of trafficking, working with source countries to help prevent people becoming victims in the first place and strengthening punishments for the criminal organised gangs behind most modern slavery.
Child trafficking experts
Border Force officers will be assisted by the Child Exploitation and Online Protection Centre (CEOP), a National Crime Agency (NCA) command, who will help develop a specialist training package. The NCA will also be available to support effective local multi-agency arrangements to safeguard and protect vulnerable children including from the risks of going missing from care. Alongside this, Border Intelligence Units are currently being set up to strengthen intelligence sharing with police and social services. Once identified, child victims of trafficking are to be provided with specialist support under a new scheme being trialled in a number of local authorities from April. The new system will ensure each child victim is allocated an independent specialist advocate with expertise in trafficking to act as a single point of contact providing dedicated support and guidance.
Tackling modern slavery
Today's announcement comes as part of the government's wider commitment to eradicate slavery and protect victims through legislation and a range of non-legislative work. Tackling modern slavery is central to the Serious and Organised Crime Strategy and has been made a priority for the NCA. Action is also being taken in high risk source countries to disrupt routes coming into the UK and to help prevent vulnerable adults and children falling prey to slave drivers.
The draft Modern Slavery Bill, which includes the introduction of tougher sentences for the criminals involved, is currently being subjected to Pre-Legislative Scrutiny with the aim of publishing a Bill in the spring that could be passed and on the statute books by the end of the Parliament.
Published 21 February 2014