Press release
Specialist advisers protect £400 million of UK businesses' intellectual property
Four UK intellectual property advisers based overseas have helped to protect £400 million worth of IP assets for UK businesses.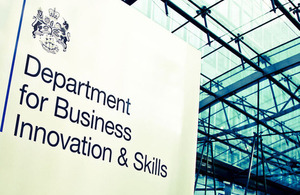 New figures published today (12 March 2015) show that 4 UK Intellectual Property (IP) advisers – based in China, Brazil, South East Asia and India - have helped to protect £400 million worth of IP assets for UK businesses.
Since 2011 these advisers (IP attachés), who provide support for UK businesses seeking advice on local IP matters in country, have also helped 8,400 UK businesses through 350 outreach and education workshops. A further 537 firms have received direct practical support helping them to handle IP issues and protect their investment.
Minister for IP, Baroness Neville-Rolfe, revealed these latest statistics to an international audience at the Taylor Wessing Brands Forum in the City of London, focussing on global IP regimes and brands licensing.
Baroness Neville-Rolfe DBE said:
Boosting trade is vital to our continued economic growth. But operating and investing overseas can be a difficult and daunting process for some. The IP attachés are successfully helping UK businesses navigate new markets and are proving a real asset when it comes to helping business protect their IP overseas.

By building effective relationships with IP authorities in emerging markets and intervening on specific issues, the work of the attachés is helping to influence the shape of UK trade and protect IP assets worth millions of pounds to the UK economy.
Roland Mallinson, partner at Taylor Wessing said:
The UK's intellectual property regime is world leading, as the Taylor Wessing Global IP Index shows.

These figures make for fantastic reading and show the great work that the IP attachés do, helping UK businesses succeed in 4 hugely important markets and promoting international trade with the UK.
These latest figures show an increase in the number of UK businesses seeking advice from the IP attaché network and the EU-funded IP rights business helpdesks in South East Asia, China and Latin America in the last year. They show that:
in 2014 alone, 55 UK businesses have received support from the China IP rights helpdesk
32% of enquiries to the South East Asian IP rights helpdesk since May 2013 have come from UK businesses
Notes to Editors
The UK Intellectual Property Office (IPO) has 4 attachés based in China, India, Brazil and South East Asia, some of the world's most challenging and fast growing markets. They work with local UK Trade and Investment (UKTI) and Foreign and Commonwealth Office (FCO) leads to provide support for UK businesses seeking advice on local IP matters in country.
For information on how to contact the IP attachés please visit 'UK overseas intellectual property attaché network'
The EU-funded IP rights helpdesks provide 'first-line' advice on the management, protection and enforcement of intellectual property rights in 3 of the world's leading growth markets for UK businesses. They complement the UK's IP attaché network to provide an all-round service for UK businesses.
UK firms invest more in ideas and knowledge (around £126 billion) than buildings and machinery (£88 billion) annually. Half of this investment is protected by intellectual property rights, which represents 4.3% of UK GDP. Many of these businesses are small and medium enterprises that have chosen to grow their business internationally, particularly in emerging and more unfamiliar markets.
The independent Taylor Wessing Global IP Index 2013 ranked the UK as the best IP regime in the world, and the US Chamber of Commerce ranked the UK's enforcement framework as the global leader.
Published 12 March 2015