Foreign Secretary William Hague calls on Hamas to end its terrorism and violence and Israel to take every opportunity to de-escalate the situation.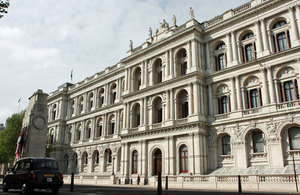 Commenting on the situation in southern Israel and Gaza on BBC Radio 4's Today programme this morning, the Foreign Secretary William Hague said:
"There has been an increase, a spike in rocket attacks over recent days and a very large number over recent weeks. What Israel has done is obviously the Israeli response to that".
"The thing that would bring this most quickly to an end would be Hamas to stop launching rockets at Israel. But, of course, there are also responsibilities on Israel, and I spoke to the Israeli Foreign Minister yesterday afternoon to urge the Israelis to do their utmost to reduce tension, to take every opportunity to de-escalate the situation, to observe international humanitarian law, to avoid civilian casualties. So both sides, of course, have a responsibility to try to bring this to an end".
"The Egyptian government have been doing a good job of trying to negotiate a ceasefire…and the Israelis say that they want a sustainable ceasefire. I also spoke to the Egyptian Foreign Minister last night to urge Egypt to use that leverage… to try again over the coming days to negotiate a really meaningful ceasefire. But there's a wider point to all of this - of course, these things are happening hour-to-hour, but they underline in the wider context the importance of the Middle East Peace Process, of a real drive to get negotiations going again. And the onus now is on Palestinians to reconcile with each other, Hamas to commit to a deal instead of terrorism, Israel to seize that opportunity, and the outside world, including the United States, to help negotiations to restart".
"The biggest contribution to ending this would be for Hamas to stop launching the rockets and then to take control where other people are launching rockets at Israel. But we do stress - and the Prime Minister has stressed this when he spoke to the Prime Minister of Israel, Mr Netanyahu, last night - that we do want Israel also to take every opportunity to de-escalate… and Israel does have to bear in mind that it is when ground invasions have taken place in previous conflicts that they have lost international support and a great deal of sympathy around the world. So… there is a cautionary lesson from previous ground invasions on that".
"We don't want any further firing to take place from either side. But I've been clear about the where the principle responsibility lies. We look to Hamas to end its terrorism and violence and Israel to take every opportunity to de-escalate".
Published 16 November 2012