Press release
Southern carriages announcement
Over £80 million towards deal led by Southern Railways to build 130 new railway carriages.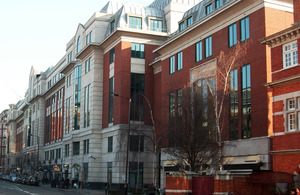 The Department for Transport is providing over £80 million towards a £188 million deal led by Southern Railways to build 130 new railway carriages.
The new trains are to be built by Derby-based train maker Bombardier following a procurement competition run by Southern.
The Department for Transport and Southern have agreed to vary the franchise agreement to support this procurement.
Transport Secretary Justine Greening said:
This deal for more than a hundred new carriages is great news for rail passengers and brilliant news for Bombardier and Derby.

It lands Bombardier with a crucial train order and I look forward to Bombardier workers in Derby being among the winners of this important deal.

This deal, helped along by my department, shows my determination to invest in Britain's railways: our support for Southern will boost capacity while helping British jobs. I can't think of a better outcome.
The funding was earmarked by Greening in the Chancellor's Autumn Statement last month but is only being announced today (28 December 2011) following the signing of the contract between Bombardier and Southern.
The deal is expected to be formally announced today (28 December 2011) to the stock exchange in Toronto, where Bombardier Transportation UK Ltd.'s parent company is based.
Southern Railways' passengers will experience the capacity benefits when the new carriages enter service in December 2013. The fresh order for rolling stock is also expected to have positive knock-on effects for Bombardier workers in Derby and elsewhere.
Southern operate train services in South London, Surrey, Sussex and Kent. The agreement that has been reached between Southern and the government also provides certainty to Southern about the expiry date of the franchise, which has been fixed at 25 July 2015. This provides clarity to any parties that may be interested in the new Thameslink franchise that commences in September 2013, with services that Southern currently operate being amalgamated into the Thameslink franchise in July 2015.
Rail media enquiries
Media enquiries 020 7944 3021
Out of hours media enquiries 020 7944 4292
Switchboard 0300 330 3000
Published 28 December 2011