Press release
South Wales businesses are delivering economic growth for Wales
David Jones visits businesses making waves in global export markets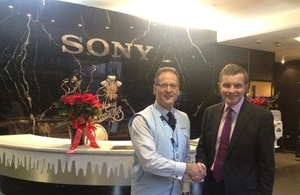 From technology giants exporting products to global customers, to a rapidly expanding pharmaceutical company, Secretary of State for Wales, David Jones will this week see how Wales-based companies are making great strides in international export markets.
Mr Jones will this week visit Sony UK Technology Centre (UK TEC) and Biotec Services International company to see the important role that these businesses are playing in Wales's journey from rescue to recovery.
Speaking ahead of the visits, Mr Jones said:
This will be my first visit to south Wales since the Chancellor delivered the Autumn Statement last week, and the UK Government launched its Small Business: GREAT Ambition strategy.

This Government is committed to creating the right conditions for companies to invest and to grow, and I'm looking forward to hearing how the measures we have announced have been received by the businesses I will be visiting this week.
During his visit to Sony UK Technology Centre (Thursday 12 Dec), manufacturer of professional and broadcast cameras and camera systems, Mr Jones will be hosted by Managing Director, Steve Dalton OBE and the plant's General Manager, Gerald Kelly. Mr Jones will be escorted on a tour of the site, and will meet the members of the Sony UK TEC workforce that are making their mark on the UK's growing manufacturing sector.
As well as manufacturing professional and broadcast cameras and camera systems the site offers third-party manufacturing solutions, In 2012, Sony UK TEC secured the multi-million pound manufacturing deal for the production of the new Raspberry Pi from China. Since then, the business has seen the success of the credit-card sized minicomputer go from strength to strength with Pi production at the Pencoed plant reaching up to 12,000 units per day. This rapid increase has seen the site employ an additional 40 individuals to cope with the level of demand, and the one millionth Pi rolled off the production line in October 2013.
The Pencoed site provides work for 500 people, including 350 direct employees and 150 staff working for the 28 companies based in a business incubation centre on site. The South Wales factory was named Best in Britain at the 2013 Best Factory Awards – the first time a Welsh organisation has won the accolade.
Speaking ahead of the visit, Mr Jones said:
The manufacturing sector in Wales accounts for approximately 10 per cent of all workforce jobs in Wales. This compares to just over 8 per cent of for the UK as a whole.

The Sony UK Technology Centre is rapidly underlining its international reputation as a centre for manufacturing excellence. The awards it has received, the contracts it is winning and the products it is exporting are clear demonstrations that it is a company that is excelling, and is proof positive that Wales is open for business.
Steve Dalton OBE, Managing Director, Sony UK Technology Centre commented:
We welcome the Secretary of State for Wales' visit to our site this week. 2013 has been a successful year for the site. For example, our third–party manufacturing contracts have continued to grow, we have expanded on our Sony product portfolio and we have also been crowned the Best Factory in Britain.

Mr Jones' visit is an opportunity to demonstrate the innovative business operations that are taking place on site. He will see at firsthand how we are excelling in our manufacturing techniques and capabilities which is enabling us to produce high-quality and reliable Sony and non-Sony products for the global marketplace.

As an organisation we are committed to further investing and developing the site's offering, ensuring the site's future sustainability and, in turn, helping to grow and contribute to the local and UK economy.
Following the visit to Sony UK Tec, Mr Jones will visit Biotec Services International Limited (Biotec) - a leading clinical supply company based in Bridgend.
Established in 1997, the team has grown significantly and has built strong partnerships with blue chip pharmaceutical and biotechnology companies across the world, including Europe, the USA, Canada, Israel and Japan.
Export sales have increased by 517% over the past five years and, in 2009, Biotec was awarded the prestigious Queens Award for Enterprise in the International Trade category in recognition of its global client base. More recently Biotec was awarded the Achievement in International Business title at the British Chambers of Commerce Chamber Awards.
During his visit, Mr Jones will be met by Keren Winmill, Chief Executive Officer, and Fiona Withey, Biotec's Operations Director who will outline the company's current and future plans, and escort him on a tour of the site.
CEO of Biotec, Keren Winmill said:
We are delighted to welcome the Secretary of State to Biotec Services. Over the past few years we have seen rapid growth, not only in our revenues but also in our global coverage and team capabilities. We continue to have ambitious objectives over the next three years and we are committed to leading the industry in controlled temperature supply chain management for clinical trials and cell therapies.
Mr Jones added:
The companies I am visiting this week are each centres of excellence in their own right, and are key employers in Wales. Their successes underline how important it is to encourage more inward investment and export opportunities in Britain.

While these companies are experiencing success at home and abroad, we want to see more Welsh businesses following their example. The importance of actively assisting the development of businesses with growth potential – both large and small - cannot be overstated.
The launch of the Small Business: GREAT Ambition strategy shows that this Government is listening to the British business community and is doing all it can to remove the barriers they face, improve the business environment and make it easier for them to fulfil their potential.

This all builds on our commitment to businesses in the Autumn Statement - to invest £250m more in the British Business Bank, to freeze fuel duty, extend Small Business Rates Relief, and make it cheaper to employ staff aged under-21.
NOTES TO EDITORS
About Sony UK Technology Centre
Sony UK Technology Centre is a division of Sony Europe Limited.
Headed up by Steve Dalton OBE - Institute of Directors, Director of the Year, South Wales winner - the Sony UK Technology Centre is the manufacturing and customer service centre for Sony in the UK and houses 28 related start-up companies.
Opened by Her Majesty the Queen in 1992, the Sony UK Technology Centre is a 30,000 m² building based in Pencoed, Bridgend.
The Sony UK Technology Centre has developed a reputation for manufacturing excellence, which has been recognised through the receipt of four Queen's Awards for Export, as well as the Queen's Award for the Environment. The centre is certified to both ISO 9001 (quality) and ISO 14001 (environment) and is a previous winner of the British Quality Award.
The Sony UK Technology Centre is a socially aware business that seeks to minimise its impact on the environment, supports its local community through charity work and sponsorship, and has the welfare of its staff at the heart of its operation.
About Biotec
Biotec Services International Limited (Biotec) is a leading UK based Clinical Supply Company specialising in cold chain management. They are an audited and approved supplier to a range of companies from virtuals to blue chip International pharmaceutical and healthcare companies.
The team helps develop innovative solutions to ensure the smooth transfer of products from development stage through to the clinic. They handle product for Phase I-IV clinical trials, compassionate use, named patient use and commercial supply, offering the following core services from their modern, purpose built facilities:
Import of supplies into the European Union
Qualified Person certification and consultancy
Primary packaging, labelling and assembly
Storage
Worldwide distribution
Returns and reconciliation
Their wide product experience includes:
Biopharmaceuticals eg. vaccines, monoclonal antibodies, therapeutic proteins
Advanced Therapy Medicinal Products eg. stem cells and tissue engineered products
Small Molecules eg. oral, injectables, topicals, inhalation products
Controlled Drugs (schedules 3 & 4)
Devices
Established in 1997 the team has grown significantly and has built strong partnerships with clients across the world, in particular from Europe, the USA, Canada, Israel and Japan.
Published 12 December 2013
Last updated 13 December 2013
+ show all updates
Added translation
First published.