South Sudan: School books for the world's newest country
Britain will provide school books to 2 million children, Lynne Featherstone said today during a visit to the capital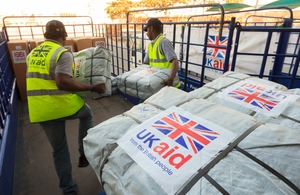 Britain will provide school books to 2 million children in South Sudan - the world's newest country since it gained independence in 2011.
The textbooks are being launched by Minister for International Development Lynne Featherstone during a visit to the country's capital Juba, today.
This new aid from the UK marks the ongoing commitment Britain and South Sudan have towards the children of the new African country.
Nearly two years after gaining independence, South Sudan still faces enormous challenges and many schools lack even basic resources.
Only 40% of children start primary school with fewer than one in ten completing primary school. This prevents the poorest from pulling themselves out of poverty.
In the coming months, 9.3 million school text books on a range of subjects will be distributed in time for the new school year in 2013. They will go to primary schools and alternative education centres, which have been set up for those who had previously dropped out of the education system and will benefit around two million children.
Minister for International Development Lynne Featherstone said:
These textbooks will help two million children become the literate and skilled young people South Sudan needs to better support itself long-term.

Education is fundamental to everything we do - it is the key to a country's development and beating poverty and it is the greatest investment we can make. It is right that we use our aid to help the people of South Sudan to build a better future for themselves and their communities.

The UK will continue to support the South Sudan government as it develops its education policies and hopes to increase the number of children who finish basic primary and secondary education.
Evidence shows that education transforms countries and societies. An extra year of quality schooling lifts a country's annual economic growth by 1% and educated children are also able to take better care of their families and find greater employment opportunities in adulthood.
The UK will continue to support South Sudan's ongoing development as it pulls itself out of poverty, through projects that support a wide range of issues:
To establish a pooled fund that will help support primary health services in six of the ten states of South Sudan.
To invest in agribusiness and in communities so that South Sudan can diversify its economy and break out of the cycles of hand-outs and imported food.
To help strengthen the South Sudan Police Service and support the transformation of the Sudan People's Liberation Army (SPLA).
To help the Government strengthen its core systems, including the customs service, in order to improve revenue collection and strengthen accountability and transparency.
To support humanitarian assistance for the most needy, including refugees from the conflicts in Sudan, as well as people affected by conflict and natural disasters within South Sudan.
Find out more about the work of UK aid in South Sudan in our country pages.
Published 22 October 2012