South London Healthcare NHS Trust to be dissolved by 1 October 2013
Jeremy Hunt announces that the South London Healthcare NHS Trust is to be dissolved.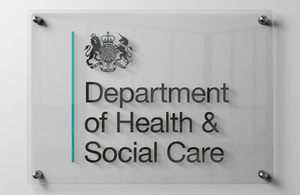 The most financially challenged NHS Trust in England is to be dissolved by October 2013 to address the risk it carries for ongoing patient care and the pressure it is placing on other parts of the NHS, Health Secretary Jeremy Hunt today announced.
Previous attempts to solve the financial problems at South London Healthcare NHS Trust have failed.  Currently, the Trust is losing more than £1 million every week and by the end of this year, is expected to have an accumulated debt of more than £200 million - money that is being taken away from patients elsewhere.
It was on the advice of NHS Medical Director Professor Bruce Keogh that Mr Hunt also announced that he has decided that it is in the best interests of patients that Lewisham Hospital should retain its A&E
The Trust Special Administrator was appointed in July last year to recommend a lasting clinical and financial solution for South London Healthcare NHS Trust.  After careful consideration the Secretary of State has accepted the broad recommendations of the report, which are:
The Trust will be dissolved, with each of its hospitals taken over by a neighbouring hospital trust.  These mergers are subject to approval from the relevant regulators.
All three hospitals within South London Healthcare NHS Trust - Queen Elizabeth Hospital in Woolwich, Queen Mary's in Sidcup and the Princess Royal in Bromley - will be required to make the full £74.9 million of efficiencies identified by the Trust Special Administrator.
All vacant or poorly utilised premises will be vacated, and sold where possible.
The Department will pay for the excess costs of the PFI buildings at the Queen Elizabeth and Princess Royal Hospitals and write off the accumulated debt of the Trust so that the new organisations are not saddled with historic debts.  It will also negotiate an appropriate level of transitional funding to cover implementation.
With regard to the proposed service changes within the new merged Lewisham-Greenwich provider, the Secretary of State asked Professor Sir Bruce Keogh, Medical Director of the NHS, to consider if they would improve patient care.
On the basis of Sir Bruce's advice, the Secretary of State has accepted the recommendation to centralise very specialist emergency care at four sites in South East London because this will significantly improve the quality of care and save the lives of up to 100 patients a year.
The Secretary of State understood the financial rationale for downgrading Lewisham A&E, but in the interests of local patients has imposed some additional clinical safeguards proposed by Sir Bruce.  Lewisham Hospital will retain its ability to admit patients with less serious conditions, and will continue to have 24/7 senior medical emergency cover, allowing it to remain open as a working A&E department treating up to 75% of the patients who currently use it.
Patients with much more serious conditions or higher risk pregnancies will be taken to Kings, Queen Elizabeth, Bromley or St Thomas' because they are more likely to have a better result. To get to this higher standard of care, patients across South East London will only spend on average 2 more minutes in an ambulance to access specialist emergency services and on average 2-3 minutes in a private car or public transport to access consultant led maternity services.
With these additional safeguards in place, the Secretary of State has agreed that the Trust Special Administrator should proceed to implementation, with South London Healthcare NHS Trust expected to be dissolved between June and October 2013.
Health Secretary,** Jeremy Hunt **said:
"The longstanding problems at South London Healthcare NHS Trust must not be allowed to compromise patient care in the future.  Hundreds of millions of pounds have been spent on paying for debt rather than improving patient care for the local community in South East London.

"What is in the clinical interests of patients in South East London has been at the heart of my decision making process, and as a result I have followed clinical advice to keep open the A&E in Lewisham.

"However, some changes need to be made so that money is spent on patient care rather than servicing historic debt. The decisions I have taken today will ensure that and that patients in South East London will be able to rely on the NHS for years to come."
Sir Bruce Keogh, NHS Medical Director said:
"Healthcare in South East London is at a turning point.  We need to strike the right balance between ensuring that all patients have access to the best possible specialist treatment whilst providing safe, effective and convenient services close to home.

"I expect that balance to result in about three quarters of patients currently seen in Lewisham A&E continuing to receive complete care at Lewisham Hospital and about a quarter being transferred for more specialist treatment elsewhere."
Jeremy Hunt added:
"I would like to thank Matthew Kershaw.  He has done a truly outstanding job in incredibly difficult circumstances.  He and his team have developed a set of proposals that will improve and maintain services in South East London."
Notes to editors
An extra £36 million of additional investment has been earmarked to ensure there is sufficient maternity capacity at the other sites. Allowing Lewisham to retain its A&E will help to reduce the level of increased demand at hospitals with larger A&E services, while an additional £37 million of investment will further expand services at the specialist hospitals for more serious conditions.
For further information, please call the Department of Health's Press Office on 0207 210 5962 / 5477.
Published 31 January 2013