Press release
South east London residents: protect against malaria before travel
South east London residents should protect themselves from the threat of malaria before visiting family and friends in countries affected by the tropical disease this summer.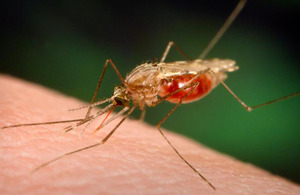 Public Health England (PHE) and African Diaspora for Action Against Malaria (ADAAM) are jointly calling for greater awareness of malaria among communities in south east London as the holiday season approaches.
Malaria is still a major health issue for south east London as shown in a recent report which found 4,311 people were confirmed with the infection by local laboratories between 2000 and 2011. Where the borough of residence was known, Southwark had the highest number of cases (1,036), followed by Greenwich (696), Lambeth (599), Lewisham (226), Bexley (189), and Bromley (83).
During this period, 93% of all imported malaria cases were acquired in Africa with 90% of these from West Africa. Over half of all cases (57%), where the information was known, reported their reason for travel as visiting friends or relatives.
Dr Rachel Heathcock, PHE London's local director of health protection for south east London, said:
Malaria is a preventable disease, so it's concerning that we continue to see high numbers of cases in people from south east London who have travelled abroad. It is particularly worrying that eight out of ten people who contracted malaria reported not taking anti-malarials during their travels to countries where the disease is endemic.

It is important for people to be aware of the risks from malaria, which is potentially life-threatening, and the benefits of taking anti-malarial medication, particularly black African people who experience the greatest burden of malaria. Avoiding mosquito bites when abroad is also crucial and measures such as covering up between dusk and dawn, using insect repellants and bednets can all help.
Ralph Tanyi, coordinator of ADAAM, added that confusion about immunity is a major reason why people do not seek advice prior to travelling, especially when visiting family and friends.
Often people living in the UK who were born in a country affected by malaria may incorrectly believe that they are 'immune' to the disease. The reality is that any resistance they may have once had decreases rapidly as soon as people come to live in the UK.

Other common misconceptions that stop people from taking the necessary precautions are that malaria drugs are too expensive or that they are only going away for a short time. Our advice is that people should not take any risks with their health and should speak to their doctor about medication to prevent malaria, no matter how short the trip. Because of these misconceptions and because malaria is totally preventable, it is vital to raise awareness in south east London.
ENDS
Notes to editors:
Read Imported Malaria in South East London report

Data on prophylaxis were available for 1,809 (64%) of all reported cases who were known to be resident in SE London (n=2,829). Of these, the majority 82% reported not having taken any malaria prophylaxis. This means there were 303 cases (17%) that reported taking some form of malaria prophylaxis which did not protect them from the infection either due to drug resistance in the region of travel or by not taking the drug properly.

The most common country of travel was Nigeria which accounted for over two thirds (67%, n=1,572) of all cases acquiring malaria in West Africa and 56% of all malaria cases in SE London residents. Travel to Ghana (n=334) and Sierra Leone (n=239) accounted for most of the other West African travel cases.

Between 2000 and 2011, 13 fatal cases of malaria were reported in SE London residents. These numbers constitute a case fatality rate of 4.6 per 1,000 across the period, slightly higher than the 2010 UK rate of 4.0 per 1,000.

The ABCD of malaria protection: A = be AWARE of the risk, the incubation period and the main symptoms; B = avoid being BITTEN by mosquitoes, especially between dusk and dawn; C = take antimalarial drugs (CHEMOPROPHYLAXIS) to prevent infection where appropriate; D = immediately seek DIAGNOSIS and treatment if a fever develops one week or more after entering an area where there is a malaria risk, and one year after return from a malaria endemic country.

African Diaspora for Action Against Malaria (ADAAM) is an African diaspora service network partner organisation. It mobilises and promotes diaspora direct involvement in the fight against malaria through community engagement and empowerment to improve the prevention, treatment and wellbeing of the community. It mobilises the African diaspora to engage with health services, policy makers, and development partners, to advance efforts to control malaria and non-communicable diseases for health improvement and protection, poverty reduction, economic and social well-being.

Public Health England is a new executive agency of the Department of Health that took up its full responsibilities on 1 April, 2013. PHE works with national and local government, industry and the NHS to protect and improve the nation's health and support healthier choices and will be addressing inequalities by focusing on removing barriers to good health. To find out more visit our website www.gov.uk/phe, follow us on Twitter: @PHE_London
Issued by:
London PHE press office
London press office
151 Buckingham Palace Road

London
SW1W 9SZ
Email london-pressoffice@phe.gov.uk
Telephone: 020 7811 7243
Alternative telephone: 020 7811 7242
Out of hours telephone 020 8200 4400
Twitter @PHE_London
Photo courtesy CDC Public Health Image Library.
Published 17 June 2013