Somerset flag flies at Department for Communities and Local Government
The flag representing the historic county of Somerset has been hoisted outside the department's offices.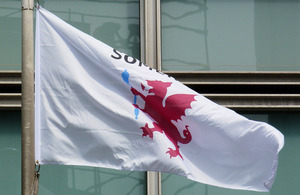 To celebrate the important place counties play in the nation's cultural heritage Secretary of State Eric Pickles has asked that English county standards be flown alongside the Union Flag outside DCLG's Eland House headquarters in Victoria.
The county of Somerset was a Norman creation. Following the defeat of the Saxons by the Normans in 1066, various castles were set up in Somerset by the new lords such as that at Dunster, and the manors was awarded to followers of William the Conquerer such as William de Moyon and Walter of Douai.
Somerset today has only 2 small cities, Bath and Wells, and only small towns in comparison with other areas of England. Tourism is a major source of employment along the coast, and in Bath and Cheddar. Other attractions include Exmoor, West Somerset Railway, Haynes Motor Museum and the Fleet Air Arm Museum as well as the churches and the various National Trust and English Heritage properties in Somerset.
Flags are being flown for a week at a time in alphabetical order or - in cases such as Cornwall and Yorkshire - to coincide with particular county days.
Eric Pickles said:
England's counties continue to form an important part of our cultural and local identity in this country and many people remain deeply attached to their home county. This sense of pride and shared identity is 1 of the things that binds communities together.

The historic English counties are 1 of the oldest forms of local government in Western Europe. Their roots run deep. And no amount of administrative reshuffling can delete these longstanding and cherished local identities.
Lord Lieutenant of Somerset, Lady Gass said:
Somerset people can take pride in their local and national achievements. It is encouraging to know that the Somerset flag will be flying in London this week.
Further information
The Somerset flag has been kindly loaned by Somerset council at no charge.
Photographs of the county flags will be added to the DCLG Flickr channel
Published 5 July 2011