World news story
Somalia: International Day of Zero Tolerance Towards Female Genital Cutting
Campaigners mark the International Day of Zero Tolerance for Female Genital Mutilation (FGM) in Somalia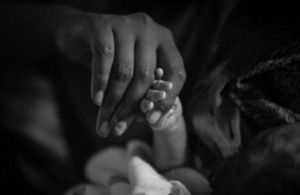 For almost two decades, *Fatuma 'cut' young girls in her home area and beyond. She was 33 when she administered her first cut. But one incident led her to down her tools…
Changing attitudes towards practising FGM
A curious mind propelled her interest in female circumcision (genital mutilation) right after her experience earlier on in her teens. 'For some reason, growing up, I was always eager to hear stories of other girls' experiences and how they viewed themselves after,' she remembers. 'It was a shame to not have been cut so those who were yet to be cut would be made fun of and insulted by their counterparts. I wanted to help other girls like those, to feel accepted by the community and so decided to be a cutter. I approached my mother and expressed interest in learning the practice from our village cutter and soon I got the coveted chance of being the cutter's assistant. Cutters were highly respected people in the community so I considered myself lucky. I remember I would encourage girls who had been brought in to be cut by telling them that they would find good husbands if they were circumcised. The cutter trained me and after a few years I took over her job.'
But one incident turned her life around.
'There was this girl that I cut who couldn't pass urine for several months,' she narrates. 'Her case was probably the first one I'd experiences. But it was seeing her in excruciating pain that was heart breaking. The girls' mother and I quickly rushed her to a nearby hospital where the doctor had to open the stitches from the cut and clean her up to avoid any further infection. She survived but that night; I buried my tools. It was over.' Available data dictates almost 98% of Somali women have undergone some form of female genital mutilation (FGM), validating its deep roots within the Somali culture.
UK aid is supporting Trocaire in its efforts towards eradication of FGM through community driven initiatives 'It's extremely difficult to fully stamp out FGM because of its deep roots in the Somali culture over generations,' says medical doctor Bernard Kapere, at the Trócaire-supported Khalil hospital in Belet Xaawo district, southern Somalia. 'To keep the conversation going, however, we encourage regular open discussions on the issue in all our staff trainings, outreach programmes and daily interactions with our patients, to enhance better understanding of FGM and see how best to initiate relevant advocacy endeavours. '
It has been 18 years since *Fatuma administered the cut. Now a practising traditional birth attendant (TBA) in her community, she hopes to see her community denounce the practice.
'Looking back, I don't see any benefit of the cut away from what our mothers and grandmothers told us,' she says. 'As a traditional birth attendant, I use these opportunities to speak with mothers on the dangers of the cut. It will take a lot of time for things to completely change but with commitment from the community, particularly from our men as the heads of our homes; maybe then more girls will escape the blade.
*Name has been changed to protect identity
Facts and Stats:
FGM in Somalia is a traditional practice which takes place among young girls between the ages of 5 and 8, often at home. There is an active anti-FGM advocacy movement in each of the three zones of Somalia, and increasing commitment to abandon the practice.
In February 2014, Puntland signed a policy to abandon FGM.
UKaid supports efforts by the government to end FGM through the Joint Health and Nutrition multi-donor Programme, the Health Consortium for the Somali People and by supporting the UNFPA-UNICEF Joint Programme on Abandonment of FGM.
The work targets
Abandonment efforts at both community and policy level.
Supports referral services for complications arising from FGM
Communicating anti-FGM messages through existing health messaging sessions and setting up girls' clubs
Works with health care professionals to prevent, treat and end medicalisation of the practice.
Published 6 February 2015