News story
Somalia Conference 2013: PM details help for new government
The Prime Minister has today set out how more can be done to help the Somali government at a co-hosted conference in London.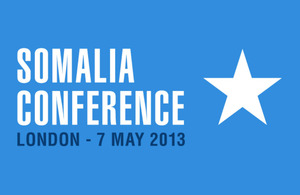 The 7 May Somalia Conference is aimed at providing international support to the new federal government's plans.
More than 50 partner countries and organisations are in attendance, including the UN, African Union and IMF.
Somalia's new parliament and government was elected last year, and has set out an ambitious plan, the Six Pillar Policy, for rebuilding the country after more than two decades of conflict.
Opening the Somali Conference in central London today, the Prime Minister reminded the international community of why it needs to help the new Somali government build a strong and democratic country.
He explained:
Somalis make a great contribution to our country and their remittances play a valuable role in Somalia, but many would like to return and rebuild their own country. We need to make it safe for them to do so.

Despite the gains made against Al-Shabaab the recent tragic and despicable attacks in Mogadishu - including one just last weekend - remind us how much work there is still to do in the fight against terrorism and extremism.

These challenges are not just issues for Somalia. They matter to Britain - and to the whole international community. Why? Because when young minds are poisoned by radicalism and they go on to export terrorism and extremism, the security of the whole world is at stake.

And to anyone who says, this isn't a priority or we can't afford to deal with it, I would say that is what we've said in the past and look where it has got us: terrorism and mass migration. We made that mistake not just in the Horn of Africa, but also in Afghanistan in the 1990s and we must not make it again.
The Prime Minister also set out how more can be done to help Somali develop a transparent and accountable government.
He said:
Under the previous government Somalia struggled with endemic corruption. So I very much welcome the commitment to public accountability that President Hassan Sheikh Mohamud has made and the plan he is setting out at this conference.

Tomorrow will see a major international Trade and Investment Conference – with companies from all over the world looking at Somalia as a place to consider doing business. But for investment to flow and jobs to be created, people need to know where their resources are going.

For our part, I hope the international community can send a strong signal to the International Financial Institutions about the need to follow the World Bank's lead and help Somalia to deal with its debts and access the vital finance it needs. And I will seek support for this from my G8 partners when we meet at Lough Erne next month.
Prime Minister David Cameron speaking on the importance of the Somalia Conference.
The Somalia Conference is one of a series of events in 2013 that will support the country, including the G8 meetings, the Tokyo International Conference on African Development in early June and an EU-hosted conference in September on the New Deal for fragile states.
Published 7 May 2013