Somali Olympic team: participating against all the odds
Minister for Africa Henry Bellingham has praised the "genuinely inspiring" Somali Olympic team and attended the Olympic athletics with Somali Minister for Sport Mohamoud Jirdeh Hussein.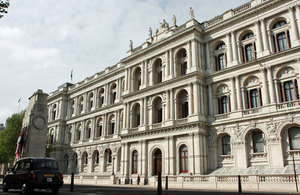 Speaking from the Olympic Stadium after watching Somali Olympic athlete Zamzam Farah in the women's 400m, Mr Bellingham said:
"It's has been a real privilege to welcome the Somali Olympic team to London, and to watch their first events with the Somali Minister for Sports. Against all the odds, and in the face of huge challenges and adversity, these two young athletes have done a great service to their country by competing in the London 2012 Olympics: Zamzam Farah in the women's 400m and Mohamed Hassan in the men's 1,500m.
"Their story is genuinely inspiring. Unlike most of those who took part, they didn't have the benefit of professional coaches. They didn't even have a functioning track to train on, and often they trained in the streets of Mogadishu, even while fighting was going on in the city.
"The fact that they made it all is a hugely impressive achievement. Zamzam and Mohamed are living proof that Somalia may be a failed state, but the Somalis are not a failed people. And they take back with them an invaluable prize: the pride and honour of representing their nation on the world stage. Baron de Coubertin, considered the founder of the modern Olympics, said that winning medals was not the point of the Olympics, it was participation that counted - it is hard to believe there can have been an occasion in Olympic history when this was more true."
Published 3 August 2012