World news story
Somali National Security Forces get training on gender and human rights
The UK-funded CSSF programme supported training of 32 Somali National Security personnel on protection of women and gender equality.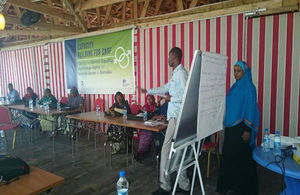 The British Embassy in Mogadishu in coordination with the African Union Mission in Somalia (AMISOM) trained 32 Somali security sector personnel on gender equality and human rights with the aim of aligning national security forces to international human rights law.
The training was aimed at institutionalising a gender module in the training and preparation of Somalia National Security Forces with the overall objective of ensuring that AMISOM and Somalia National Security forces operate under the global and regional norms established by the African Union and the United Nations. The training also aimed at promoting participation and leadership of women in the security sector, which has traditionally been dominated by men.
Speaking at the opening ceremony, the Special Representative of the Chairperson of the AU Commission (SRCC) for Somalia and Head of AMISOM, Ambassador Francisco Caetano Madeira, said:
Protection of women and gender equality is a major commitment of AMISOM. With this training, we hope to see skilled Somali trainers on gender and human rights who will continue to expand the training to ensure that security forces are accountable and respect human rights and gender equality principles.
The course, developed in conjunction and partnership with Somali gender experts and in consultation with other partners working in the security sector, was delivered by local trainers who had earlier been trained through UK funding.
The Deputy Minister of Defence, Honourable Olad Abdullahi Roobe, opened the course and announced the establishment of a Gender Directorate in the Ministry of Defence, a positive announcement following months of lobbying from earlier trained Somali trainers.
One of the participants from the Ministry of Security, acknowledging the usefulness of the training said:
This was a very useful course relating to our daily work. We realised there are opportunities to promote women's participation in the security sector especially in areas where women do better such as information gathering and investigating sexual violence cases.
Published 13 December 2017